Okupe Reacts As Son Comes Out As Homosexual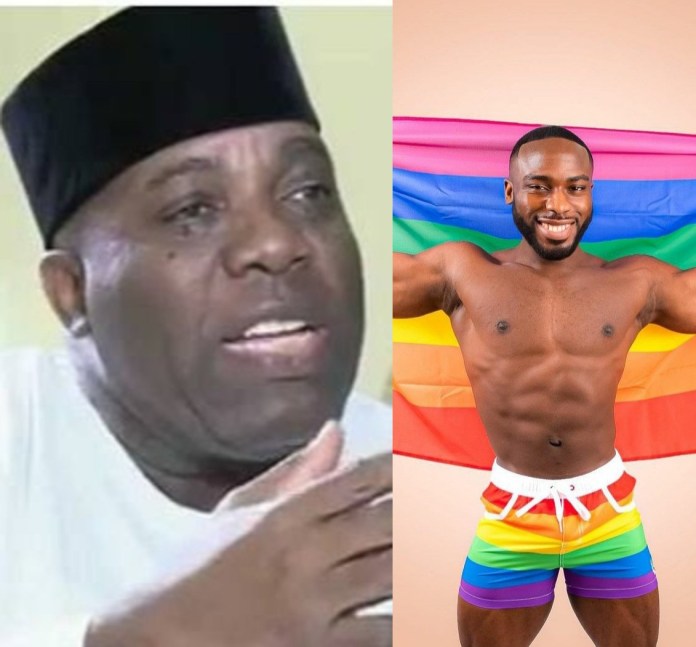 Doyin Okupe has given a shocking but reassuring reaction after his son came out as homosexual. Bolu Okupe came out on Instagram to claim that he is gay on Thursday.
Dr. Okupe, a two time presidential aide in the Olusegun Obasanjo and Goodluck Jonathan administrations came out to admit that Bolu is his son, but asserted that he is strongly opposed to his lifestyle which he said is wholly contrary to his belief as a Christian.
He further went on to say that Bolu's pathway is a spiritual challenge for him which he said he would fight with God's grace.
Bolu had come out on Instagram to proclaim that he is gay. His outing was received with mixed reactions on Instagram with many shocked and some welcoming and some disapproving with some taunts.
However, Dr. Okupe, reacting on his Facebook page said he saw it as a spiritual challenge.
He said:
"The picture below is that of Mobolurin Okupe. He is my son. I gave him the name MOBA OLUWA RIN, ( I WALKED WITH GOD) because he was born at the time I gave my life to Christ.
I have been aware of this his new orientation for a while now.
He knows that as a Christian and a witness for Christ ( an evangelist) I am vehemently opposed to homosexuality as it runs contrary to the avowed precepts of my Christian faith.
For me I look beyond the surface or the physical. Here I see a major spiritual challenge ahead but I know as my God liveth, this whole saga will end up in Praise to the Almighty Jehova who i serve day and night.
For it is written: Behold, the hand of the Lord is not shortened that it cannot save, neither is His ear deaf that he cannot save"
See his post below;
Send Us A Press Statement Advertise With Us Contact Us