Last Minute Intrigues As APC Registration Starts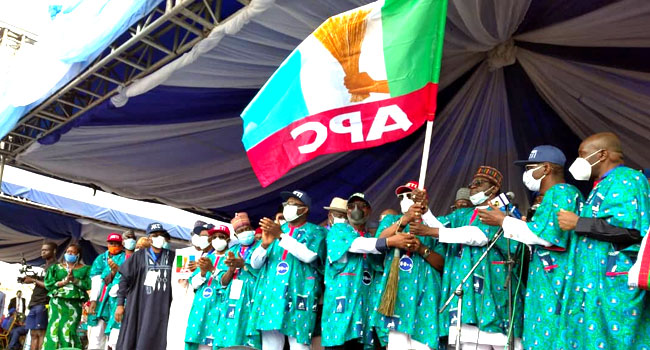 The scheduled All Progressives Congress, APC registration exercise was at the weekend caught up in another web of intrigues following last-minute intrigues to derail the exercise.
A statement supposedly issued by the National Secretary, Senator John James Akpan Udoedeghe had announced the indefinite postponement of the exercise profoundly pleading with party members to bear with the party for the latest postponement.
The registration exercise scheduled to commence on Monday has been dogged by controversy with some party chiefs alleging that it was a plot to diminish the influence of original party leaders like Asiwaju Bola Tinubu within the party.
It is alleged in some quarters that the fresh registration is to remove the membership power base from Tinubu to the governors who are positioned against the National Leader and his 2023 aspiration.
The fake news of the postponement statement which went viral in some news websites was, however, late-night denied by the party.
The initial statement which was issued in the name of the secretary of the Convention Planning Committee, Senator Udoedeghe read in part:
"We sincerely apologize for the postponement of the proposed registration of the All Progressives Congress party scheduled to take place on Monday 25 January 2021, now placed on hold until further notice to be announced by Thu.
"Therefore, we implore all participants and stakeholders, well-wishers and lovers ready to join our great party to place on hold until the order arrives from above. Thanks for your partnership."
GWG, however, had sought official confirmation on the postponement of the APC registration upon which a statement denying the earlier statement was affirmed.
The party's true position on the issue as signed by Senator Udoedeghe read thus:
A "NOTICE" in circulation and ascribed to the APC CECPC National Secretary, Sen. John J. Akpan Udoedeghe Ph.D. is fake and highly mischievous.
The APC membership registration, revalidation and update exercise remains on course and commences as scheduled in the attached timetable.
As earlier announced, the CECPC has approved the constitution of State Membership Registration Committees for the Party's nationwide membership registration, revalidation and update exercise. This will be followed by a train-the-trainer workshop.