Apostle Suleiman, My Husband And I – Pastor Faith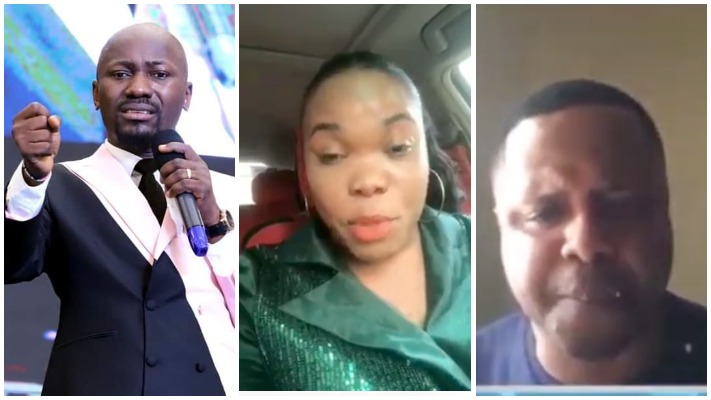 Pastor Faith Edeko, the lady at the centre of the adultery allegation raised against Apostle Johnson Suleiman has flatly denied the assertions by her husband. According to her the only truth in all her husband said was that he married her a virgin.
Speaking to Vanguard, Edeko described her estranged husband as a manipulative man who for the ten years they were married serially verbally abused her despite preserving her virginity for him.
She said she was completely at a loss as to why he dragged Apostle Suleiman into their issue describing as abominable the allegation of her sleeping with a man she said was like an adopted father.
According to her, she was raised up in Apostle Suleiman's house after her father died.
Pastor Faith said:
"I've never had anything to do with Apostle Suleman, it's like sleeping with my biological father. It's like someone telling me that I am sleeping with my own biological father."
"I grew up in Apostle Suleman's house. In my video on Facebook, I told Mike that thank God you said you met me a virgin. Thank God you told the whole world you met me a virgin."
"I grew up in papa's(Apostle Suleman's) house. He trained me, he brought me up. My mum knows him. My family and everybody knows him. My father died when I was young and he adopted me as his own daughter. So, if you married me a virgin and I remained with him a virgin after 20 years plus, I don't get it."
"I have never had anything to do with Papa, not for one day. Which Papa!? Papa that if you send a message and end it in any way not proper, he will call you and ask you what is the meaning of the last part."
"Mike did not introduce me to Apostle Johnson Suleman, I introduced Mike to him as the man that wants to marry me. And the question Papa asked me was, 'is this the man?' and I said yes. So, I don't know what Mike is talking about because I married him a virgin, just like he confirmed in his video. That is the only truth he said in all his videos.
"I've never had anything to do with Apostle Suleman, it's like sleeping with my biological father. It's like someone telling me that I am sleeping with my own biological father. In fact, Papa did not even know when this marriage crashed. That this marriage stayed up to 10 years was because of Papa. Every time I tell him I am tired of this marriage, he would tell me, 'go back,' that where do I think I am going to."
"When Mike met me, I was working in NTA and I later left the job. And Mike would always tell me that I'm not up to his standard. Mike has always wanted to elope with some women abroad. But I covered him because he is my husband. Go to Kano church and they will tell you that there is nothing that Mike is not guilty of, but I will come out and tell them that my husband did not do that. I have recordings."
Pastor Faith continuing said:
"But what I don't understand is what brought Apostle Suleman into this issue. Why drag an innocent man into this issue? You walked out of the marriage, you said I am not up to your standards, you want to go and make money abroad. You left me in Kano and my family put my pieces together. It was people like Apostle Tenebe and Apostle Sam Okpe who begged Mike to go back. Tenebe begged Mike to go back but he refused that he wants to move on, that this is not the level of success he prayed for himself."
"Our marriage crashing has nothing to do with Papa. She said, contrary to claims, that Pastor Davids did not resign but was driven out of the ministry because of his ring doings. That was what led me to go begging. It took me close to a year to get access to papa. It was when I heard that Apostle Sam Okpe was close to papa that I went to him to help me beg papa. And he did it. He took me by the hand to papa and begged him. The next week, he took Mike to papa and begged him and Papa said he had forgiven him and we all moved on fine. Only for him to wake up one day and said he was leaving the marriage. No day passes that I don't beg him, kneeling down as if he is a God and he would tell me that 'i will leave you, you should be proud that I married you."
"When he was leaving, I begged him to let the children stay with me.
"I don't know where Mike stays but I heard that he is in Abuja. Mike said that I have a church in Utako. He knows the place. He said he is looking for me and the place to look is online? Did you forget the roads to my village and family?
Pastor Faith went on:
"Does Apostle Johnson Suleman know when you sent your people to collect back your bride price? Bride price he collected around June or July? Was Apostle Suleman in the picture when he collected the bride price? They went to my uncle's house and he told them it's not done that way but they said noo, he wants to move on. So, are we still married?"
"Let me shock you. He never submitted a copy of our wedding certificates to the Local Government for documentation." She said pastor Davids collected both the photocopy and the original marriage certificates from her on the guise that he was applying for a visa to go abroad only to come back and tell her he lost them both. She said he even made efforts to retrieve the only copy with the church but was denied."