Video: How Niger Delta Men Fought At PIB Hearing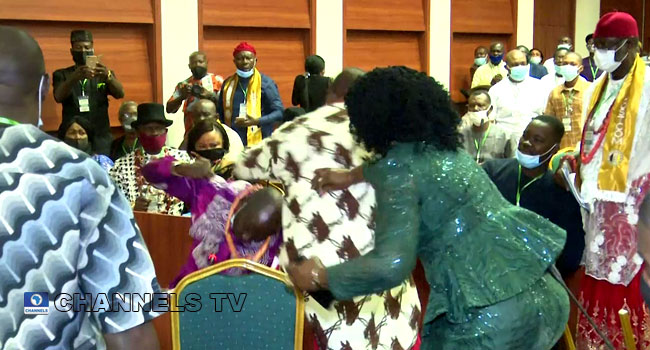 Factions of the Host Communities of Nigeria, HOSCOM engaged in an open brawl at the public hearing of the Petroleum Industry Bill, PIB on Thursday at the House of Representatives.
It was gathered that the different factions of the host communities disagreed over who would better represent the issues of the communities.
Trouble broke out when one of the leaders of the Host Communities rose up to make a presentation but was quickly challenged by another leader and in their disagreement they and their supporters immediately resorted to blows.
The Producing Oil and Gas was called to the podium to make a presentation.
House officials had to bring in security men and officials of the Sergeant-at-Arms to intervene and restore order.
GWG reports that the majority of the host communities reject the 2.5% of the operating oil companies expenditure proposed in the PIB as a trust fund for the host communities.
They are insisting on 10%.
Send Us A Press Statement Advertise With Us Contact Us