Edo Teachers Snub Sack Threat, Govt Goes To Court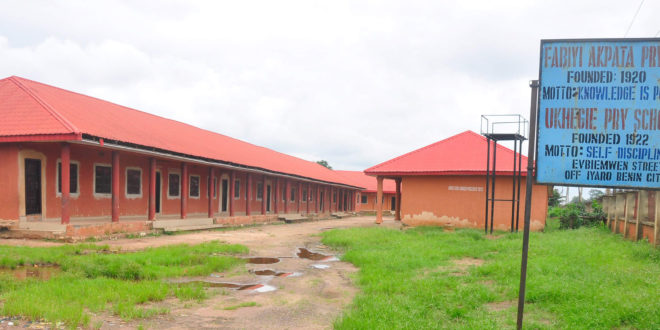 Primary school teachers in Edo State on Monday massively heeded the call of the Nigerian Union of Teachers, NUT to go on strike despite late minute moves by the state government to coerce the Edo teachers through the invocation of a 'no work no pay policy.'
Following the declaration of a strike by the NUT from Monday, February 1, 2021, the government had last week declared that it would strictly enforce the no work no pay policy.
However, on Monday the majority of the teachers in the state shunned the government and stayed away from the primary schools. Government officials led by the Secretary to the State Government, Osarodion Ogie who monitored the schools met mostly empty classrooms.
In the face of the failure of the coercion, the state government resorted to the courts where the government obtained an injunction against the NUT going on strike. The move was to bring the Edo teachers back to school.
Hon. Justice A. A. Adewemimo, gave the order on Monday, February 1, after listening to submissions put forward by the Edo State Solicitor-General, Oluwole Iyamu, SAN.
The Edo State Government and the Edo State Universal Basic Education Board (SUBEB) are the applicants in the case with Suit No. NICN/BEN/04/2021.
The defendants in the suit were Chairman, NUT, Edo State, Pius O. Okhuleliegbe; Assistant Secretary General, NUT, Edo State, Moni Mike Modesty Itua, for themselves and on behalf of the members of the Edo State wing of the Nigeria Union of Teachers (NUT)
Delivering her ruling, the Honourable the Justice restrained the Chairman and Assistant Secretary General respectively of NUT, Edo State, either acting through themselves or their agents or privies from embarking on any strike action pending the hearing and determination of the motion on notice, which was fixed for Tuesday, February 9th, 2021.