Amid Mockery, Fani-Kayode Denies Joining APC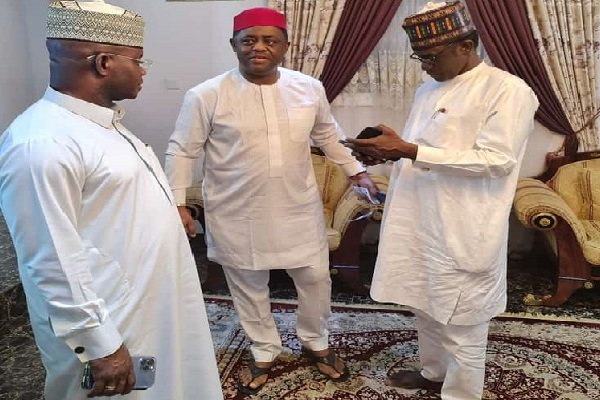 Femi Fani-Kayode was on Wednesday beating a retreat back to the Peoples Democratic Party, PDP after strong opposition from the presidency derailed what Governor Yahaya Bello confirmed as his return to the All Progressives Congress, APC. Late on Wednesday, Fani-Kayode denied joining APC.
Hours after Bello confirmed Fani-Kayode's defection to the APC, and with indignation on both sides of the political divide, the former aviation minister declared on Wednesday evening that he was still consulting and that he was yet to leave the PDP.
He tweeted thus:
His tweet followed the assertion by Governor Bello that Fani-Kayode had joined the APC.
Speaking to newsmen, Bello said:
"Our Brother Chief Femi Fani-Kayode has joined our party in good faith. He is joining our party to add his own positive energy and make a contribution to ensure that APC is a party to beat.
"Remember that Fani-Kayode was a foundation member of this great party but due to misunderstanding, he decided to port elsewhere. Now he has decided to join our party. He approached me and by the mandate given to me by the party, I must not segregate or discriminate against any individual even if he has a different opinion about the governing party before and he has seen the light, the reality and the need to join the All Progressives Party.
"It is just nice, important and very sweet to accommodate and welcome Fani-Kayode to join the party. Remember that this party does not belong to one individual, it belongs to all Nigerians.
"You are free to join if you feel otherwise and you cannot understand what is happening before and now you understand and want to join we will welcome you with our arms wide open. So Chief Femi Fani Kayode you are welcome to our party, come and make your on contribution."
Bello's claim led to outrage on both sides that ultimately led to Fani-Kayode denied joining APC.
Leading the chide of APC faithful against Fani-Kayode's admission was presidential aide, Bashir Ahmed who taunted him on joining a party he once termed as an Almajiri Peoples Congress.
If I were him, I would never even think of joining the Almajiri People Congress, Ahmed wrote.
Ahmed who is the Special Assistant to the President on New Media followed up the heat on Fani-Kayode tweeting later on Wednesday:
Quoting Fani-Kayode's tweet in 2014 in which he called the APC the political arm of Boko Haram, Ahmed replied saying:
They said he is now considering to join the POLITICAL WING OF BOKO HARAM, I do hope he's successfully completed the required training, so he could be decorated as one of the great commanders of the wing. And when successfully joined, he will be one of the recognized 'murderers'.
The presidential aide would not let off on Fani-Kayode writing immediately the former aviation minister said he was still consulting.
Responding to the tweet, Ahmed asked him to remain in his lane. He said:
Please stay in your lane, sir.
Send Us A Press Statement Advertise With Us Contact Us