Five Reasons APC Leaders Don't Want Fani-Kayode
By Chuks Ekpeneru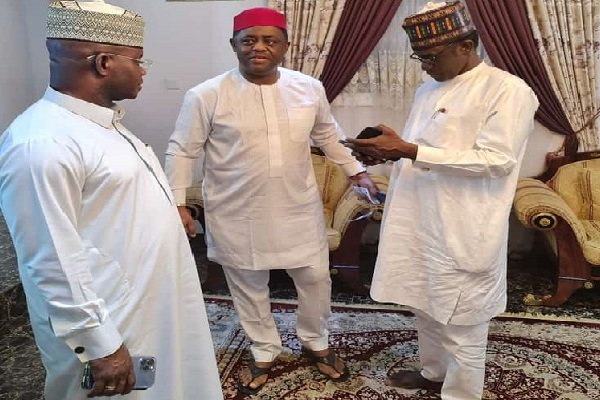 With speculations that former aviation minister and chieftain of the opposition Peoples Democratic Party (PDP), Chief Femi Fani-Kayode is plotting his return to ruling All Progressives Congress (APC), majority of party stakeholders have been voicing their opposition to his membership. Indeed it appears some critical APC leaders don't want Fani-Kayode.
They have advanced several reasons ranging from his past insults on the party and its leaders, but also his lack of political fidelity.
Reward for Scandalous Behaviour.
According to the Director-General of the Progressive Governors' Forum (PGF), Salihu Moh. Lukman, Fani-Kayode's return to the APC would be tantamount to 'rewarding scandalous behaviour'.
Lukman said that Fani-Kayode had fabricated stories, distorted, insulted and damaged information about our party and our leaders.
"The elementary rule of decency would require some good distance between our leaders and such a person.
"Not even the ward leaders where he is located should be associated with him except for reasons of family ties," he said in asserting why APC leaders don't want Fani-Kayode.

2. He Swore Never To Rejoin The APC
Fani-Kayode once said that he would rather die than join the APC.
3. Ridiculed The Party
He once described the party as rat-infested Almajiri Peoples Congress (APC).
According to him, "Those that claim that I have joined them and that seek to link my good name to such a bloodthirsty, blood-lusting, accursed political association of Boko Haramists, Fulani herdsmen, genocidal maniacs, ethnic cleansers, mass murderers, ethnic supremacists, religious bigots, cow-lovers and corrupt treasury looters that have brought nothing but death, division, misery, poverty, incompetence, shame, and destruction to our nation and our people will burn in hell forever!
"I am committed to opposing the APC and those that are in their ranks for the rest of my natural life and I will NEVER join them no matter what!
"They are nothing but darkness whilst I stand for the light of God and truth: there can be NO fellowship between light and darkness," he added.
4. Northern APC Leaders Are Opposed To Him
Some Northern APC leaders don't want Fani-Kayode because of what they perceive as his anti-North utterances. They accuse him of being in the habit of insulting President Buhari and people of the northern region for several years.
5. He Is Facing Corruption Charges
Though a former national chairman of the party was quoted as saying that sinners turn to saints once they join the APC, it looks as if Fani-Kayode's sins have been complicated with underlying infractions that make his conversion from sinner to saint difficult. As such it may seem difficult for the party to overlook the allegation of N4.9 billion fraud that he is presently being tried for.