Fani-Kayode Rebuked Over Saraki, GEJ Comment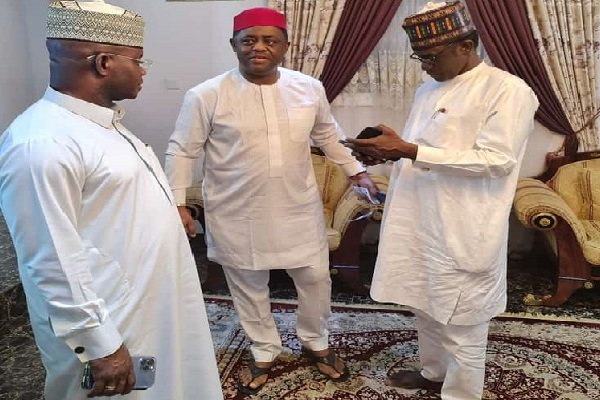 Chief Femi Fani-Kayode has come under savage attack after he called out Dr. Bukola Saraki for leading a team to Dr. Goodluck Jonathan despite partaking in the rebellion against him prior to the 2015 presidential election.
Noting the role that Dr. Saraki played in the 2014 break of the Peoples Democratic Party, PDP that led to the emergence of the New Peoples Democratic Party, nPDP, Fani-Kayode had in a tweet said:
Interesting to note that the man that led the team to GEJ's house to appeal to him not to leave the PDP yesterday is the same man that led the rebellion against him & the defection of Governors from the same party in 2014 & cost him the 2015 presidential election. What an irony!
However, Fani-Kayode's dig or comment did not go down well with many on the social media who hit at the former aviation minister over his own political infidelity. The development followed the recent outreaches by Fani-Kayode to some All Progressives Congress, APC governors and officials.
However, Fani-Kayode's alleged move to return to the APC was firmly rebuffed by critical elements in the party including presidency officials who went public to reject him.
Some of the critics who taunted him referred to the matter pointing out that he, Fani-Kayode, had made a record in being the first Nigerian to be publicly rejected by a political party.
Martins Adefemi
Have you seen where a sinner went to Jesus and feel rejected?? NO! But you went to APC to ask for forgiveness but you failed to realize that devil does not forgive but devour.
Rebuffing him, Nkundiame said:
Yes but if we wish to unite this Nation and foster a cordial relationships among religious and ethnic lines then there is need to forgive and forget. They have realised their mistake lets move on
A twitter user, KP making an allegory on him and Saraki who returned to the PDP while he opts out, said:
My father once told me that a man who goes back to fratanise with an enemy who earlier bayed for his blood will die 10x earlier than one who realised he made a mistake by retracing his step back to his old trusted ally who he betrayed.
Kvngwalex who drew Asiwaju Bola Tinubu into the fray noted his political constituency
It's shows (Tinubu)is their god father in politics, he prefer to be minority than to be jump in & out like local arm robbery. He was the only one surviving tsunami of Obj 2003 & withstood pressure of Obj. But they always envy of his achievement.
Replying to kvngwalex, akamanam goodnews replied that Tinubu should not need another state if he had Lagos to himself whose economy is more than the economy of many other African countries.
akamanam goodnews
If you have Lagos to yourself and some of the SW states what do you need again if not greedy, mind you Lagos alone is richer than 20 African countries you won't mind federal allocation.
TUNDE Babamale. Flag of Nigeria taunting Fani-Kayode on his earlier disavowal of any further dealings with the APC said:
The same thing applicable to the same man that said, he will rather die than join some years back but romancing with the same party he had cursed now. Have u seen your life now?
Tuned Babamale further taunted Fani-Kayode saying:
" Give him food, he will sing for you." – General Olusegun Obasanjo This was how the former Nigerian President described Chief @realFFK and now he is proving him right.
Ime Don Mp Joshua
Isn't Nigeria like a playground for kids, we all watched the Democrats defeat an incumbent in a mature democracy (US elections) here our people are busy decamping for cheap politics gains and soft landing, tell me how Nigerian democracy is gonna be fixed and stable?
Ugochukwu
Did GEJ tell you that he wants to leave PDP? Even if your narrative is true that man who realized that he erred and retraced his steps is better than you who is dancing at the middle of nowhere.
VSA
by one who can't even manage his immediate family successfully. Changing and impregnating women up and down. What an irony!
Kenneth Unuaye
You were thinking GEJ will join you to leave PDP.
Now you are left to leave alone, you are already are disappointed , you have started whining!
EBONYI Real Rep
this is the reason why APC wants him so bad. Attacking and cursing people is what FFK knows best. Where do you belong now?
Ugwu Gregory Emeka
I know u are simply waiting for the storm to calm before making ur expected move.All of u Politicians are thesame.
Y. A. M01
All of you are THE SAME!! The difference is that they realised their mistakes at early stage of the government as far back as 2016, some of them returned including Saraki. Saraki has paid the price by losing his seat as the Senate president and the entire Kwara state.
omoyemi adeniyi
Yes it's an irony but you not in a position to say anything on this as you too has been in and out of PDP at one time. History dey o on all of you Egbon
Waribo Emeka
You're now changing gear attacking anybody who preaches for PDP. Yesterday is gone. Politics is about today and tomorrow and not about yesterday.
Odion Okosun
What's your point and real intention here? I think the
@OfficialPDPNig should expel you from the party for this comment. You don't mean well at all! Not for and certainly not for Nigeria. This is subtle divisive comment!
Morale Vitae🕊
Its not time for blame game. Embrace everyone with genuine intention to wrestle power from Miyeti Allah before its too late. Those creatures came for blood. They are not worthy to live among the living
Larry
If you're still in PDP like you said (which am not really interested in) please forget about pointing accusing finger. Politics is all about interest.
Omo Olopa
How far? Were you able to register your name in the ongoing registration? Time dey go o
Ed9official
You are in the same boat my brother. Show me any Nigerian with regards for politics of ideals.
God's wealth on me
Mr ATENU, this table you are shaking, APC won't give you any appointment oo. Just continue with your PDP and criticism.