14 Okorocha Loyalists Arraigned, Ex-Gov Ill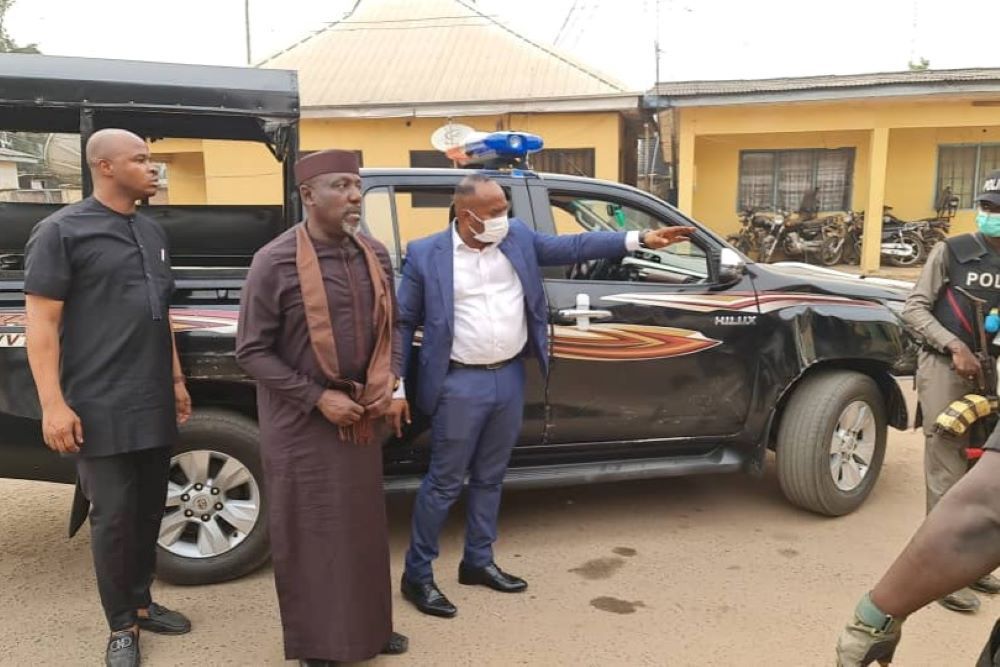 14 associates of Rochas Okorocha were arraigned in an Owerri magistrate court on Monday morning upon their involvement in the alleged unsealing of the Royal Palm Estate sealed by the Hope Uzodinma administration last week. The 14 Okorocha loyalists arraigned included 9 males and five females.
The former governor was not arraigned along with the nine men and five women nabbed with him at the Royal Palm Estate on Sunday. Sources said that Okorocha pleaded illness as excuse not to be arraigned.
However, GreenWhiteGreen GWG had reported that Southeast governors were mediating into the case with the hope of getting a truce between Okorocha and the Imo State Government.
Governor Dave Umahi had earlier on Monday called on the two parties to stay off the media on the unfolding development.
Umahi's intervention was, however, not enough for Okorocha's supporters as they were arraigned before the Oweri Magistrate Court on Monday.
The arraignment followed the sealing of the Royal Palm Estate by the present administration upon the report of a panel initially established by the Emeka Ihedioha administration and upheld by the Uzodinma government.
Okorocha had reportedly led his associates including former political appointees to unseal the property before they were overwhelmed by supporters of Uzodinma and nabbed by the police.
Okorocha and his wife were held in custody until about 11.00 p.m. on Sunday following which he was granted bail.
14 Okorocha loyalists were arraigned after they were nabbed with him in the melee on Sunday.
The 14 arraigned included 9 males and five females were Obasi Goodluck, Nwaiwu Ndubuisi, Obor Victor, Nev Rapheal, Basil Mba, Steve Asimobi, Eberendu Chimechifulam, Ibekwe Darlington and Olu Chizoba.
The five ladies arraigned were Median Ijeoma, Ucheka Cluadin, Sunday Chisom, Ekpendu Peace and Ebere Nwokeji.
They were arraigned on a six point charge of including misdemeanor and disobedience to lawful authority by violating a government seal on the Royal Palm Estate as lawfully put by the government.
The charges were brought by the Commissioner of Police through a Superintendent of Police, Omo-Osagie M.A.