Secret Reason Adeyemi Called Ikpeazu A Drunkard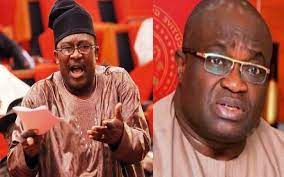 Senator Smart Adeyemi's attack on Governor Okeize Ikpazu of Abia State has been traced to an unsettled political score flowing from a diatribe by Senator Enyinninya Abaribe against Governor Yahaya Bello. Adeyemi called Ikpeazu a drunkard on the Senate floor on Tuesday drawing strong comments around the polity.
The attack from Adeyemi, it was initially observed, was believed to be a response from Adeyemi to an alleged social media post in which Abaribe ridiculed Bello.
Senator Abaribe, the Senate Minority Leader and Adeyemi who entered the Senate the same year in 2007 was quick to deny making any social media post directed at Bello.
Following Adeyemi's assault on Ikpeazu, Abaribe had said:
"What has happened is what we see going on today. People write something and tag your name to it. And if you don't ask question, you will not know whether you actually said it or not.
"I'm very surprised that my good friend and colleague decided to take on the governor of Abia for something I never said," Abaribe said.
However, Senator Dino Melaye has posted on twitter a video of Senator Abaribe ridiculing the prospects of Governor Bello as a possible president of Nigeria.
GreenWhiteGreen GWG reports that Abaribe's comment came during Bello's first term when the former senator representing the governor in the Senate, Senator Ahmed Ogembe had an empowerment outreach and it was disrupted by thugs.
Secret Reason Adeyemi Called Ikpeazu A Drunkard
The scene of the disruption was reportedly witnessed by some senators who were also attacked by the thugs. It was alleged that the thugs were prompted by the governor.
Abaribe had at a Senate session following the incident said:
"Mr. President people have been running around and saying we need youths, the man in Kogi State is a youth (but) why is it that this youth does not know what he is doing and there is so much insecurity in this particular place?
"That does not give any credence to (anything) that you should hand over this country to youths, suppose we hand it over to him? What will now happen? We will now have a broken country and a country that is thrown to the dogs.
""So, you will now see that it is not youths but the ideas that you have that decide how you act."
So, Adeyemi's fightback was apparently traced to the comment which took place about four years ago.