Buhari Will Lift 100m Out Of Poverty – Supporters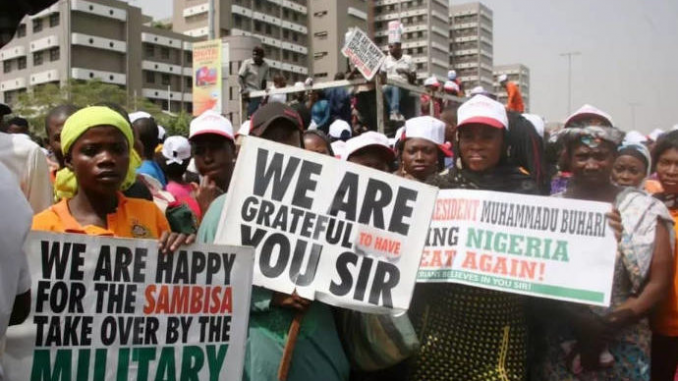 President Muhammadu Buhari will lift 100m out of poverty in Nigeria his supporters said on Thursday, enthusing that the programme to do so was on course, and that he should not be doubted.
Giving this assurance in a press statement in Abuja, the Buhari Media Organisation (BMO) said the President, being a man of honour and integrity, will not go back on his words or back-slide on a pledge.
In the statement signed by its Chairman Niyi Akinsiju and Secretary Cassidy Madueke, the group urged Nigerians to keep faith with the President, adding that the President is pooling all Nigeria's resources to ensure that 100 million poor Nigerians are removed from poverty and given better lives.
"The President Buhari administration is fully committed to meeting the target it has set for itself to rescue 100 million Nigerians from the clutches of poverty; this commitment is backed by concrete and workable plans.
"The administration is backing its words with action. The Presidential Economic Advisory Council set up by President Buhari has already put in place a National Poverty Reduction Strategy.
"This strategy document was the product of wide consultations with various stakeholders necessary for its successful implementation; including Governors, Development Partners and the organised private sector.
Affirming that Buhari will lift 100m Nigerians out of poverty, the group continued:
"This plan will consolidate on already existing activities that have been embarked upon by the Buhari administration. It seeks an expansion of Nigeria's current agricultural activities, taking advantage of the economic endowments of the country to promote industrialisation, among other initiatives".
The group stated that the Buhari administration had in fact already begun the journey through its introduction of policies and programmes that were targeted at increasing access to finance, creating job opportunities, and expanding the space for small and medium scale businesses to thrive.
"Trust in the President's determination to take away 100 million Nigerians from poverty should be founded on his record. To his credit Nigerians living in poverty have reduced from 112 million in 2014 to 82 million as of now.
"These significant 30 million persons dropped off the grip of poverty is the result of hard work, commitment and strategic programmes and policies of the Buhari administration, such as the Social Investment Programmes, the Anchor Borrowers Programme and others", the statement added.