We Were Fed Beans Once Daily – Kagara Students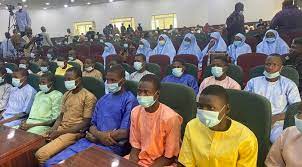 Kidnapped Government Science Secondary School, GSSS, Kagara students were fed with beans once daily, the now freed students have narrated.
For the released hostages it was a hell that none of them ever wants to come near at all again.
GreenWhiteGreen GWG recalls that the 27 students and the other staff and family members were abducted penultimate Wednesday following an attack on their school.
Following their release, the former hostages were bussed to Minna where they met with Governor Sani Bello who encouraged them.
Following the meeting, they spoke to newsmen on their experiences.
Suleiman Lawal, 18 years said, "We suffered so much in the hands of the kidnappers. I have never experienced such in my life. In fact, I thought I was dreaming because the torture was too much for us. I am happy now that we have been freed.
"They fed us with beans once daily and they gave all of us five sachet water to drink and that made us very weak. I don't think I will like to go to that school anymore except there is enough security," Lawal, one of the GSSS, Kagara students said.
Abubakar Sindi who is 20 said: "the day we were kidnapped, we walked through the forest from 2:30pm till around 7pm. Unfortunately, all through our trekking, there was no time for us to rest, drank water or even eat anything because they tortured us to move fast or they will kill us. I was scared because the forest was thick. All through this time, we didn't eat until, they stopped us and asked us to sit on the ground.
"They gave us beans to eat after which they grouped us and asked that if any of us have parents who are either police or military, that was how they flogged us mercilessly so much that I thought I was going to die. In fact, I am not sure I can ever see any bush or forest and not remember this incident. I was so scared."
Besides the deprivation of being fed with beans once daily another of the Kagara students, Abubakar Adamu, who 16 years old, said "we suffered a lot. No food, no water and even, when we were served water, it's three persons to one sachet of water."