Unpaid Salary: Gov Ayade's Aide Attempts Suicide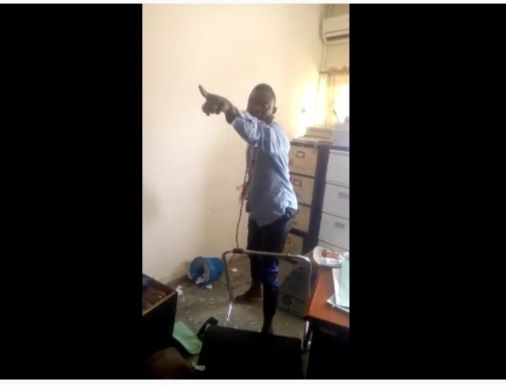 A senior aide of Governor Ben Ayade of Cross River State has been stopped from a suicide attempt that was prompted by months of unpaid salary. Ayade's aide suicide attempt was captured on video.
Mr. Freeman Godwin who is from Obudu in the Northern Senatorial District was seen in the video lamenting his plight over his inability to meet his financial obligations especially after his wife delivered recently.
GreenWhiteGreen GWG had reported how magistrates in the state recently took to the streets to protest over the failure of the Ayade government to pay them months of accrued salaries.
It was alleged that Freeman who was appointed in November 2020 has not been paid since his appointment. Government sources, however, put the delay to his failure to complete his documentation, a reason the suicide survivor faulted.
Noting how the government required him to put in his best, Gov Ayade's aide while talking on his suicide bid lamented the failure of the government to reciprocate with their emoluments.
Upon his mounting challenges, Freeman had decided to take his life with a rope in the office, but his friends who came around stopped him from his permanent exit from earth.
Ayade's aide talking on his suicide bid said: "When the time reaches for work, they will use you and dump you. Now they throw you here and there as if you are nobody.
" I will die for this government. They play me up and down, sending me here and there. I am ready to die now," he said.
" You were not here on Tuesday( telling his colleagues ). How will a man call himself a leader and he comes out from his office with what belongs to you and he will demand that you go to His Excellency the governor and collect a letter before he attends to you.
Ayade's aide continuing on his suicide bid said:
"I am ready to die in this office. I have chosen it to take my life. I lost everything. I was there living my life and they called me to make an appointment.
"They asked me to borrow money to do clearance. At the end of the day the select some people and pay #100, 000. Telling me Ben Ayade said, Ben Ayade said.
"So I should go and get a letter from Ben Ayade. Please don't touch me. I will die for them. I sold everything to pay that young man I borrowed money from" Ayade's aide said of his suicide bid.
"I borrowed money, came here and did documentation hoping that when I am paid, I will pay back the loan. See, my wife just gave birth through surgery. A baby girl, I just said let me see what I can do but no way," he lamented.
A government source, however, said that he was not the only one affected as he said that Freeman was among those employed in November 2020 who were yet to be paid.