Abacha's Shadow Over APC As Buni Weds Gumsu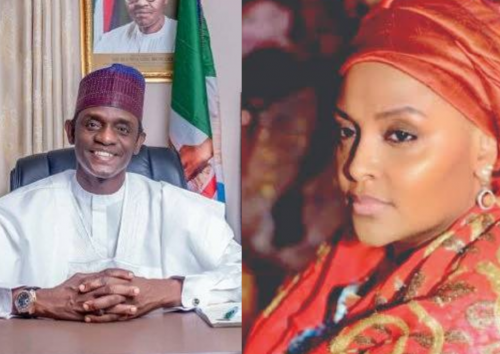 Gen. Sani Abacha's shadow was last weekend looming large over the All Progressives Congress, APC after the national chairman of the party's Caretaker/Extraordinary Convention Planning Committee, Mai Mala Buni married the late dictator's daughter as his fourth wife.
President Muhammadu Buhari who also worked for the late dictator as chairman of the Petroleum (Special) Trust Fund, PTF is the leader of the APC.
The marriage between Bun and Ms. Gumsu Abacha according to sources took place in Kano in the residence of Mohammed Abacha.
Gumsu before now was married for twenty years to Cameroonian billionaire, Bayero Fadil Mohamadou. She married him when she was 25 years.
The quiet marriage was reportedly done in secret to avoid public counterattack and it was not discernible whether it was to avoid impressions of Abacha's image over the APC or for whatever other reason.
The marriage according to sources may have been worked out for political purposes. However, the political plot was still laced in secrecy, given the fact that Buni is still in his first term as governor of Yobe State and is likely to offer himself for a second term in 2023.
The marriage is not the only reminder of Abacha's shadow over the APC as his former leg men are now with Buni running the party.
Buni is increasingly wielding much influence in the polity as chairman of the APC. Working in cahoots with another Abacha political progeny, Governor Bagudu Atiku of Kebbi State, the two governors with the governor of Jigawa State Badaru Abubakar have become the main fixers in the APC.
Governor Bagudu was reportedly an associate of the Abacha regime through the son of the late dictator, Mohammed Abacha and was reportedly mentioned in some financial cases that were brought up against the Abacha family.
Before this his fourth marriage, and the appearance of Abacha's shadow over the APC, Governor Buni who was national secretary of the party.
He also married a daughter of the former governor of Yobe State, Ummi Adama Giadam as his third wife. He married her within hours of his inauguration as governor in 2019.