PACAC In Danger As Malami, Sagay Fight Dirty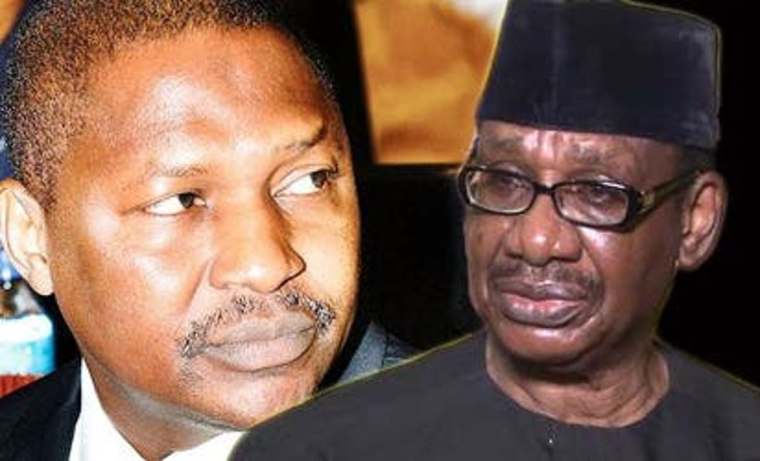 The friction between Abubakar Malami, the Attorney-General of the Federation and Minister of Justice and Prof Itse Sagay may end up consuming the Presidential Advisory Committee Against Corruption (PACAC) it has emerged. Sagay's squabble with Malami which is not new, has, however, become more vicious in recent times.
Prof. Sagay is head of the PACAC now engaged in a vicious power struggle with Malami, the country's chief law officer.
Sagay and Malami have taken different approaches towards the anti-corruption fight of President Muhamadu Buhari.
Sagay has frequently accused the Minister of sabotaging the war against graft.
The most recent case was Sagay's claim that Malami will interfere in the work of the new Chairman of EFCC, Abdulrasheed Bawa, who was the Lagos zonal head of the body.
Sagay said that Malami who recommended Bawa for position will not allow him to operate.
The minister responded through his spokesperson, Dr. Umar Jibrilu Gwandu, saying Sagay is "a confused old man whose vision is becloud­ed by speculations and guess works."
Recall that Sagay and members of PACAC and his committee publicly supported the reappointment of Ibrahim Magu as chairman of the Economic and Financial Crimes Commission, against the wishes of Malami.
Daily Independent reports the minister is pushing for the disbandment of PACAC on the excuse that the committee has outlived its useful­ness and should be disbanded like the Special Presidential Investigation Panel for the Recovery of Public Property (SPIP) formerly under the supervision of Okoi Obono-Obla.
PACAC was established in August 2015, with the mandate to promote the reform agenda of the government on the anti-corrup­tion effort, and to advise the present administration in the prosecution of the war against corruption and the implementation of required reforms in Nigeria's criminal justice system.
A source in the presidency confirmed to Daily Independent on Sunday, that Malami has recommended the disbandment of PACAC as the committee is no longer relevant to the anti-corruption war.
"The minister has made some recommendations, one of which is the disband­ment of PACAC. It, however, remains to be seen whether the president will approve of it or not".
However, the minister through his media aide, said only the presidency that established PACAC can determine whether it is still useful or not.
"PACAC is a presidential committee established by the presidency long before the appointment of Abu­bakar Malami, SAN, as the Attorney General of the Federation and Minister of Justice and his assumption into office in 2015.
"The fate of the existence or otherwise of the committee is exclusive preserve of the presidency regardless of whether it outlives its usefulness or not."
Prof Sagay however disagreed with Malami on the irrelevance of PACAC.
According to him "All I will say is that whatever he may think, the committee is still very relevant to the fight against corruption in this country.
"We provide the coordination of the two agencies (EFCC and ICPC), we train and help to mobilise and en­courage the anti-corruption agencies to be more effective. We have a lot of ideas that we have been pumping into the system which they are using."
Send Us A Press Statement Advertise With Us Contact Us