Fani-Kayode Flayed After Pointing Buhari's Aide As Sponsor Of Bandits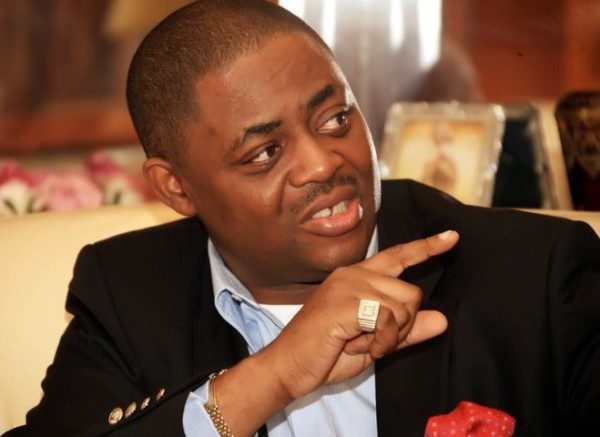 Femi Fani-Kayode has been flayed after accuseing an unnamed special adviser in the Muhammadu Buhari administration as the brain behind the spate of crises bedeviling the nation and vowed to expose him.
According to him, the Buhari aide is especially interested in the president declaring a state of emergency in Zamfara and nine other states in the North.
Fani-Kayode, however, drew back from naming the special adviser.
He said:
The conspiracy to destabilise our nation is coming from within. The culprit is a crooked Special Advisor. The objective is to destabilise 10 states including Zamfara & ensure the President declares a state of emergency in each one.This man is the enemy within. I will expose him.
His inclination to withhold the identity of the alleged suspect, however, did not go down with his followers and others on Twitter who accused him of joining the elite in the country to brag.
A day before he made the allusion, Fani-Kayode hung out with Governor Bello Mattawalle of Zamfara State and Governor Aminu Waziri Tambuwal of Sokoto State.
Governor Mattawalle had recently alleged that he knew those who were behind the kidnap of the 279 schoolgirls from the Government Girls Secondary School, Kangabe, Talata Mafara. Like Fani-Kayode, he also drew back from naming the culprit. GreenWhiteGreen GWG cannot establish if there is a nexus between the meeting he had with Matawalle and his assertion or claim about a conspiracy to frustrate the peace effort in Zamfara State.
Twitter users were divided on the claim by Fani-Kayode as some flayed him for bluffing saying that if he were sincere that he should have named the person. Some also accused him of inconsistency with his recent romance with All Progressives Congress, APC chieftains.
He was thus challenged to name the special adviser.
GreenWhiteGreen GWG gathered the thoughts of Nigerians on social media.
IKECHI INNOCENT CHINAEMEREM
Alagba Ken
Gumi said they're Political Militants.
SP Lawan said Drug Barons are sponsors.
Lai said they're Foreigners.
Garba said they're Freedom Fighters.
FFK updated said Special Advisors sponsors.
All the video clips of the Bandits are singing different songs.
They're getting worst.
if truly you love your country, you dont need to wait for people gey killed before you expose the culprit unless your hands are in it..If you know them speak now or forever hold your two lips..
KCube
Na lie: It is an old Agenda, designed after OIC meetings which could only be implemented by the madi. Today you talk true tomorrow you even lie more than Yahya Belo.
OBJ told us now, (where there is food)you think we don't know you.
You dey play along and we dey watch you.
FORTUNATE LAURETTA
If you had the mind to expose anyone, you wouldn't waste your time posting this here. All Na scam the regime's way
Eneyo Emmanuel
We don tire to dey believe you. Today you are in Kogi that used helicopter to shoot at armless voters and you know you would work on us to see something good in you in the private residence of GEJ. If at all you have any name, go ahead. Abi dis announcement na make dem cut give u
Mekz Emeka Ibeji who flayed Fani-Kayode added his own thus:
Sir, I think u are gradually coming very close to the point where a hidden agenda would be revealed soon
What are ur plans? Who's bankrolling this move?
Is it true that u have secretly joined APC political choir group? Sing this praises loud let's hear u clearly
Prof Mustapha Jamda
Please expose him. Zamfara state governor is also alleged to have stated that Nigerians will be surprised if they know those behind the insecurity. He is yet to mention.
It's service to humanity not only Nigeria to expose behind the insecurities please.
nassjuniour
Wait do you actually believe he will name them. ha Nigerians are so gullible Please do, expose him so we can have our country back
Apostle Arinze Nonso
Please no time to waste. Expose him now so he won't cause more havoc. We've heard enough. Nigerians expecially those in the North have suffered enough. Children can't go to school anymore, farmers can't go to farm, business men and women can't freely do there biz. Expose him now
Kent elis
You are known to be a fearless man. But in recent times you blow hot, cold and lukewarm. Pls expose whatever needs to be exposed so we can all face it.
All you guys are beating about the bush. Chief FFK, What is going on? Kilode brother?
suleman hassan dibal
Sir keeping such bold accusations to yourself show you're also part of the insecurity of this Nation. Exposed them and let the security agencies deal with the rest.