Ihedioha Denies London Plot With Comedian Lawmaker, Ogbuagu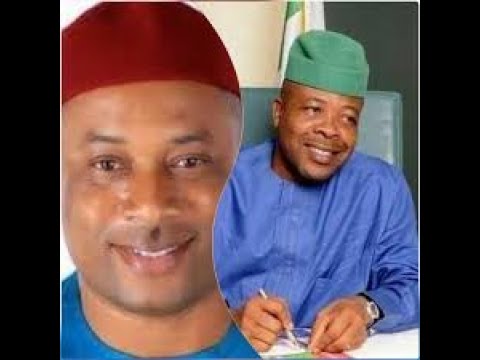 Immediate past governor of Imo State, Sir Emeka Ihedioha has flatly denied any role in the recent removal of Uche Ogbuagu as majority leader of the State House of Assembly.
Reacting to an online news report that Ogbuagu was spotted with him in London, Ihedioha debunked the claim saying that he had not left the country since the outbreak of the COVID-19 lockdown in 2020.
The reaction follows continuing mystery over the removal of the popular comedian, Ogbuagu as the majority leader of the State House of Assembly last week.
No reason was given for the removal.
GreenWhiteGreen GWG reports that Ogbuagu who represents Ikeduru State Constituency where Chief Emmanuel Iwunanyawu comes from was unceremoniously removed by an announcement on the floor of the House last week.
Sources have told this news website that Ogbuagu had been having running problems with some of his fellow principal office holders in the assembly.
Though he was elected on the platform of the Peoples Democratic Party, PDP he had following the Supreme Court decision on Senator Hope Uzodinma as governor joined some other House members to defect to the All Progressives Congress, APC.
It was against the background of the unexplained factors that the report of a meeting between Ogbuagu and Ihedioha as being the reason for the removal of the comedian as majority leader.
But denying any such meeting, Ihedioha in a statement on Thursday said:
"We wish to state clearly that the purported report, captioned: "Exposed: Alleged London Meeting with Ihedioha, Reason, for Uche Ogbuagu's Removal as A majority Leader' is fake news, misleading and a handiwork of blackmailers.
"It is noteworthy to state that His Excellency, Rt. Hon. Emeka Ihedioha CON, has not been out of the country since the Covid pandemic started in early 2020, and its attendant effect on global travel. The purported meeting therefore could not have happened and so its a figment of the writer's imagination," he said in rebuffing a meeting with Ogbuagu.
"The purveyors of this unfounded report should settle thier political scores and leave His Excellency, Rt. Hon. Emeka Ihedioha CON out of it.
"The public is enjoined to disregard the falsehood in its entirety."