Condoms For Cheating Husbands: Pete Edochie Outrages Nigerian Ladies
But Nigerian Men Show Understanding
By GWG Staff Writer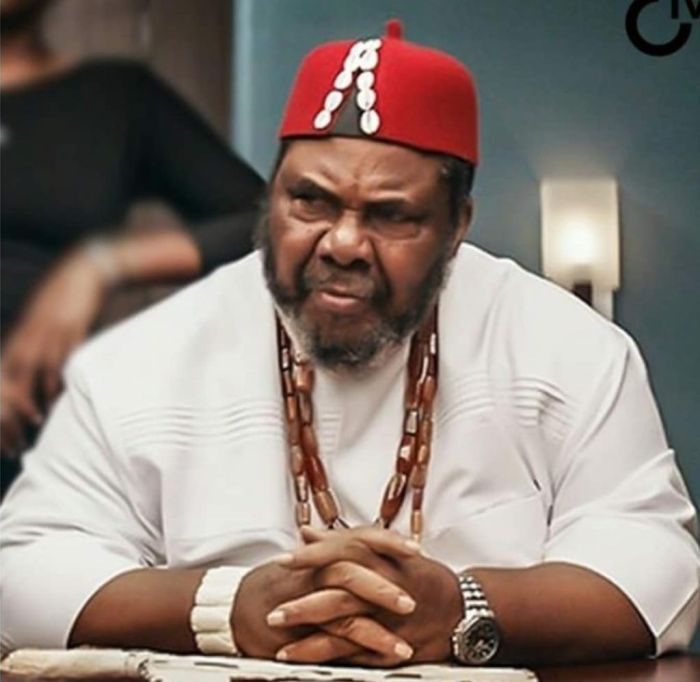 Celebrated Nollywood icon, Pete Edochie was trending on Twitter on Tuesday morning after a video of an undated interview surfaced where he hit at ladies who divorce their husbands on the basis of infidelity. Edochie had adviced married ladies to pack condoms into their husbands' travelling boxes if they suspect he may cheat while on tour.
Many Nigerian ladies poured scorn on him chiding him over what they described as his lack of tact. Many men who responded, however, saw wisdom in his words.
In the undated video, watched by GreenWhiteGreen GWG, Edochie had said:
"If you answer the name of your husband you are bound to be submissive to him. The way women insult men these days, I begin to imagine, it is not our character. Our women used to be beautiful things we loved, we envied, we loved to hold close, we loved to cuddle, today they are turning into vixens, what is really going wrong?
"A lot of you run out of your husband's houses because (you say) he was cheating on me. Solomon I think had 1,000 wives, 700 concubines.
"If you say that your husband is cheating on you and now decides to take many more wives, what are you going to do? Nothing! Absolutely nothing!
"If you think that your husband leaves the house, says he is going on tour and he is going to have an affair outside, put a packet of condom into his bag, tell him that you have packed his bag for him. When he sees it, psychologically he is going to think this woman has my interest at heart. If it is his intention to stray, he will put himself together.
"It is just that you women are not being creative, you want to be like wild women who keep marrying and divorcing and marrying. It doesn't suit us!"
The response to Edochie on condoms was fierce from the ladies on twitter with OMOTAYO Of Lagos saying:
Pete Edochie is the worst nightmare of Nigerian feminists
#OurFavOnlineDoc said:
I think they need to stop interviewing Pete Edochie. Especially on social issues. The man is 74. His generation is entirely different from ours on social issues and gender matters. Continuing to interview him is setting a trap to ridicule him and ruin his memory for all of us.
Hauwa
Pete Edochie will not kill me.
My Oga say if you put condom in a man's bag, reverse psychology will stop him from cheating. Bold of him to assume awon omo Oduduwa will even help you use your condom.
Name is blank
Pete Edochie is right I'm not leaving my "home" because of another woman. Lol I will only divorce my husband if he disrespectfully brings her home. I've said this severally, no way! Even the condom, I will supply him with it cuz I need to protect myself indirectly too
Matriach commenting on what Edochie said of packing condoms for cheating husbands, said:
Pete edochie is an old man yes, but his words make you reflect on the nonsense a lot of Nigerian women endured and still endure given how he's still dishing out company secrets of the patriarchy to young men and continuing the cycle. So people have a right to be upset.
Major Gen. OLUCHI
50+ years from now, the next generation will listen to what we parade as wokeness today and laugh us out of the room because it is no longer attainable in their generation. Those of us in certain fields might get canceled because of our archaic wisdom. That's Pete Edochie today
Chibaby
I miss when Pete Edochie didn't speak outside of movies
One of the most satirical comments from the ladies was from Kimberly who in her tweet said:
I have no problem with what Pete Edochie said as long as it's vice versa. If my husband finds out I'm cheating, he should buy contraceptives n put in my bag!!!
A number of men who responded to the outrage of the ladies on packing condoms for cheating husbands were less critical.
Omokhuweh
Pete Edochie is a 70+ Igbo man. Hold this information with your left hand before you go ahead and rile yourself up for no good reason
YourFavLawyer
Pete Edochie will keep saying whatever he likes. At least he's not pretending to be progressive. That's how he genuinely thinks and he won't change for anybody. Don't waste your outrage.
Mazi Olisaemeka C.
I don't know why you guys are trying to drag Pete Edochie. What exactly do you expect from a 70+ man who came from an entirely different generation? This man is from an era where patriarchy reigned and you expect him to preach feminism? You should be worried if that came from me.
I Z U @heisizumichaels
Duuno about you though but Pete Edochie was absolutely correct on that submission. Divorce is a nice option but it's not the best solution to marriages with issues When a wife willingly puts a packet of condom in her hubby's bag, it's a big point Don't argue if you're lost here.
#OurFavOnlineDoc responding to the advice on condoms for cheating husbands from Edochie said:
Pete Edochie is 74. Let's show the man some Grace. Some of his ideas are bound to be old-fashioned. If you never insult your parents/grandparents who may say the same thing, why are you crying about Pete Edochie? Your outrage won't change the man. You are wasting your tears.
Alhaji Beardless Smallie
A lot of necks were pressed today as an old video of Pete Edochie where he said there is nothing 9ja women can do when their husbands cheat was brought to the Tl He even advised them to add condom to their husbands traveling bag whenever they feel he wants to go and cheat.
S.L.E.D.G.E
Somebody should tell these women Pete Edochie doesn't give 2 f–k about what they think about him. All this man wants to do is to drop his 2 cents irrespective of how you see it and would do it 1million times if he's called for another interview
Alex VI
If an elder gives you an advice, you can either take it or discard it. You must not use it, but you just need to listen deeply and understand that experience they're pushing out to you. Let's not slander Pete Edochie for his OPINION. You can use the advice, or you don't use it.