We Approach God As Our Father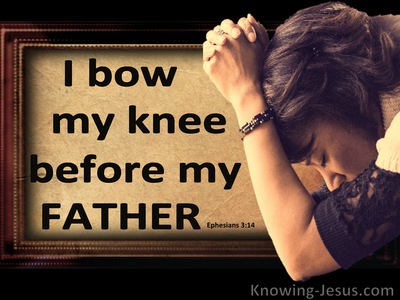 For this cause I bow my knees unto the FATHER of our Lord Jesus Christ. Ephesians 3:14.
We have seen that in approaching God we come in reverence, kneeling first in our hearts and freezing out all other thoughts.
We approach God as our father. A father is more than just a progenitor or one who plants the seed, a father fathers, looks after and bears responsibility for his offspring.
God has put Himself in that position for all who would submit to Him in His Kingdom.
Jesus was as always on point when He said,
"After this manner therefore pray ye: Our Father which art in heaven,". Matthew 6:9.
Jesus first pointed it out that we make our desires to Our Father. We do so because it is His responsibility to see to our wellbeing in the earth he made.
That point Jesus reiterated in Matthew 7:11 "how much more shall your Father which is in heaven give good things to them that ask him?"
But the critical issue for many is in identifying who is father to them. Is it God or satan as represented by the world?
Beloved, may God guide and guard us all in staying in our lane with God the Father.
Good Day.