Shehu Sani Prophesies As Tinubu Stumbles In Kaduna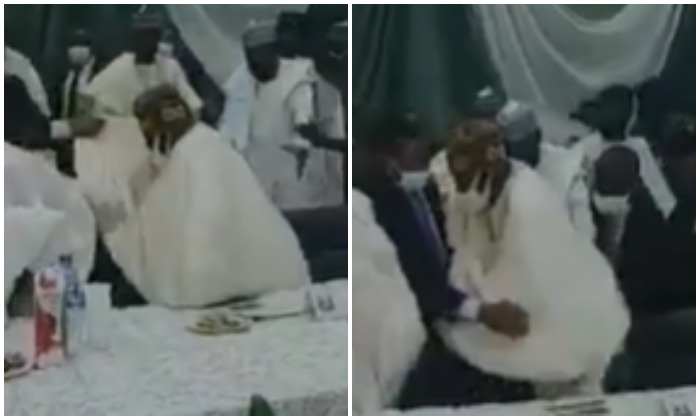 The National Leader of the All Progressives Congress, APC, Asiwaju Bola Tinubu stumbled on Saturday as he arrived to make a presentation at Arewa House, Kaduna on Saturday.
The political leader who missed his steps as he walked towards the podium was held back from falling on the floor by the adjoining table and chairs. Aides were also on hand to help him regain his composure after the momentary slip.
He, however, continued on his way with no sign of ill-health and went on to deliver his speech.
However, Senator Shehu Sani without directly mentioning the stumble, in a tweet apparently tried to mirror the political leader's physical experience with the speculated political conspiracies said to be weaved against him by his political traducers.
In his tweet, Senator Sani said:
Oh ye Jagaban; Be thyself. They shalt smile and whisper to taketh thee to the peak of Mount Sinai Only to throw and drown thee in the turbulence of the Euphrates River.
The import of Senator Sani's quote was on Saturday night stirring a debate among his flowers on twitter with varying assertions as to the political prospects of the National Leader of the ruling party.
The debate was against the background of assertions that President Muhammadu Buhari and members of his inner caucus were determined to stop Tinubu from succeeding the president.
The presidency, however, came seriously against the assertion affirming that the relationship between the president and Tinubu remained cordial.
Mallam Garba Shehu who issued the statement on behalf of the president had said:
""The President and the Asiwaju have a very strong commitment to All Progressives Congress (APC) towards bringing CHANGE and this is a commitment they have made to the Nigerian people.
"Recent reports of a rift between the two leaders of our party are false; the handiwork of some media mischief makers.
`It is quite unfortunate that certain sections of the media feed on birthing controversies, providing a nexus for naysayers who work behind the scenes, planting such stories which are absolutely false.
"This administration is aware of pessimists and cynics, who willfully spread misinformation to create doubts in the minds of the people about the relationship between its leaders and whether the party will remain intact or not.
"There is no doubt that the president and the party are focused on development, peace and security, restructuring of the economy and war against corruption and will not be diverted to anything else.