Outrage As CCT Man Blames Biafrians For His Conduct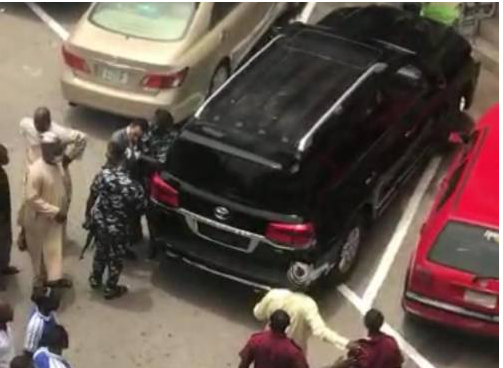 Outrage was greeting the defence of the chairman of the Code of Conduct Tribunal, CCT, Danladi Umar of his conduct at an Abuja shopping mall where he was caught on video kicking a security man over a parking lot. In his defence, the chairman accused Biafrans of causing the uproar that greeted his conduct.
The outrage was both in the ascription of blame and the grammar in the press statement issued in the defence of the chairman. The statement has been termed as about the worst in grammar issued by a government agency.
GreenWhiteGreen GWG had reported how Umar was caught on video kicking a security guard at Banex Plaza.
Responding in a press statement issued by Ibraheem Al-Hassan, Head, Press & Public Relations of the CCT, he blamed Biafrans for supposedly causing the mayhem at a shopping centre he said that Umar had visited over time without an issue.
While noting that Umar went to the plaza with his younger brother, he said that the policemen around were overwhelmed by Biafrans who according to him pelted the chairman's vehicle with stones.
He said that even at a point when he wanted to leave the scene, that the Biafrans sought to restrain him.
"At a point he attempted to leave the scene, these same miscreants, BIAFRAN boy(s) ordered for the closure of the gate thereby assaulting him before the arrival of (a) police team from Maitama police station."
The conduct and Umar's response was pushing the narrative that the CCT chairman lacks the decorum to continue in his position as chairman of the CCT.
Monday Ubani a former Second Vice President of the Nigerian Bar Association, NBA speaking on Channels Television on Wednesday while drawing away from the clarion call for a blanket condemnation of the CCT chairman called for an immediate investigation of the incident towards ensuring that the honour of the office should be protected.
He said that it was an issue that the NBA should take up with Umar.