Anxiety As 55 Suspects In Ebonyi Communal War Escape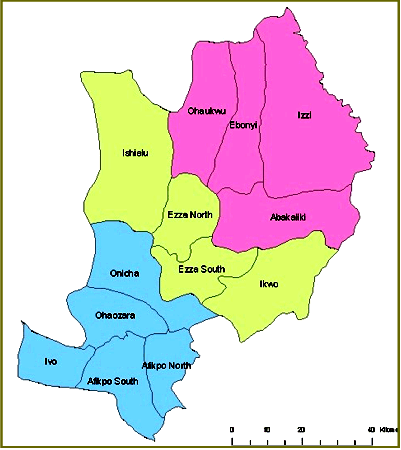 Over 55 suspects arrested in connection with the intra-communal war between Ezza-Effium and Effium clans in Ohaukwu Local Government Area of Ebonyi State have escaped from custody, sources said on Saturday.
Sources said that only 11 of them out of the total number of 66 were rearrested.
Yet, another source said that the 11 suspects could not escape because they were already old and could not run.
The violence which started on January 22 2021 had led to the destruction of lives and property was said to have claimed over 500 lives.
The suspects who were mainly from Jukun, Igala and other sub-ethnic nationalities were allegedly arrested by combined team of Army and police led by the General Officer Commanding 82 Division of the Nigerian Army, Enugu when he went on-the-spot assesment of crisis in the war-torn community.
The war among the communities has caused concern among stakeholders in Ebonyi State that it could dovetail into other crises confronting the state.
A security source said, "The GOC was accompanied by the Deputy Governor of Ebonyi State, Kelechi Igwe and other security chiefs when they cordoned off Okpoduma village, an Effium enclave where the militias at Uffiom were camped and arrested over 66 of them and handed them over to the police.
"However, drama ensued when on return, the Deputy Governor and the GOC were shocked with the information of the escape of 55 suspects from police custody which threw the entire state into confusion," adding that it could escalate the war among the Ebonyi communities.
A stakeholder in Ezza speaking clan in Effium also shed light on the escape of the suspects and the impact on the communal war in Ebonyi.
She said, "A total of 66 warriors were nabbed by Ebonyi State Deputy Governor and GOC Commanding 82 Division alongside his men at Okpoduma village and the suspects escaped along the way.
"Look at them in these pictures. These pictures have already garnered a thunderous applause for Ebonyi state government and the military. You can see that the crisis in Ebonyi State is political. The government know what is going on. It's the hands of Esau, voice of Jacob."
But while a source said 11 of the fleeing suspects were rearrested by and are currently in their custody, another source said they could not run away because of old age.
Send Us A Press Statement Advertise With Us Contact Us