Odumakin: Wife Speaks, As Keyamo Mourns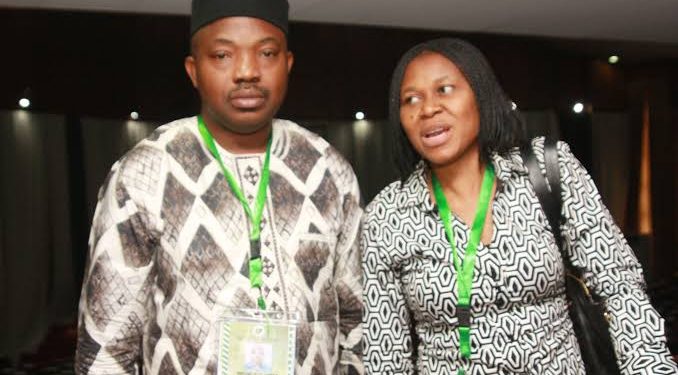 Dr Joe Okei-Odumakin, wife of the deceased Afenifere spokesman, Yinka Odumakin, on Saturday confirmed his death after a brief illness in Lagos.
News of the death of Odumakin, who was the publicity secretary of Afenifere, one of the country's most vocal socio-cultural groups has shaken the polity with shock coming even from the deceased's political opponents including the Arewa Consultative Forum, ACF.
Okei-Odumakin, also the President of Women Arise, confirming the death of her husband in a statement in Lagos said:
"The sad event happened on Saturday morning at the intensive care unit of LASUTH where he was being managed for respiratory issues due to complications from COVID-19 which he had recovered from about a week ago," wife of the deceased, Odumakin, said.
"I appreciate the outpouring of grief and sympathy from home and abroad as I mourn my irreplaceable soulmate."
She urged all to remain steadfast in the cause of the masses to which her husband dedicated his life.
She said that burial arrangements would be made public in due course, the wife of Odumakin said.
Meanwhile, the minister of state for labour, productivity and employment, has described the death of Odumakin as a personal loss for him given what he said was his personal relationship with the deceased and his wife.
Keyamo who condoled the family in a message on Twitter said:
"Yinka's death is a personal loss to me. He & the wife, Joe, have been my long-time friends & allies. I knew them separately before they met & got married. I just called the wife's line & they're still at the hospital. My deepest condolences to Josephine & the Odumakin family," he wrote.
GreenWhiteGreen GWG had reported that as spokesman of Afenifere and on his own pedestal that Odumakin championed for true federalism in the country asserting that it was the only way for the country's separate components to attain growth.
Yinka Odumakin and his wife were active in the human rights community, and he was on his part, also a versatile writer and author.
In the last few years he has run newspaper columns in Vanguard, Tribune among other leading national newspapers.