12 Owerri Prisoners Return As NCoS Gives Warning
NCoS Warns That Fleeing Inmates Will Be Retried If Caught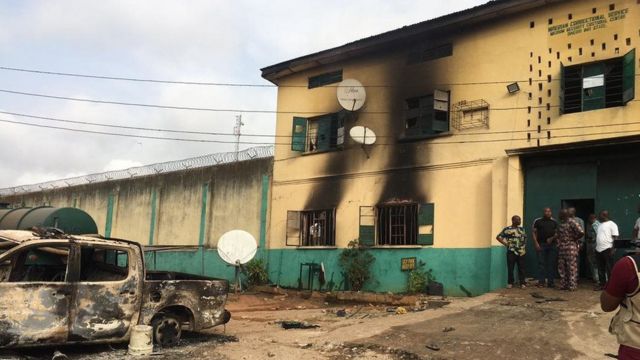 Six more inmates of the Owerri Custodial Centre have surrendered bringing the number of prisoners who have returned to 12, the Nigerian Correctional Service, NCS said on Tuesday morning.
The NCS has earlier on Monday said that six inmates returned after the invasion while 35 inmates refused to escape after the invasion of the prison facility.
Spokesman of the NCoS, Francis Enobore gave the update in a television interview on AIT's Kakaaki programme on Tuesday monitored by GreenWhiteGreen GWG.
According to him, 12 prisoners of the Owerri Custodial Centre have now willingly returned out of the 1,844 inmates who were freed, while 35 persons refused to leave after the mayhem.
"As at yesterday we got calls from a number of counsels that their clients came to them willing to come back. Some family members have also called to say that their family members are willing to also come back.
"Let them call back on their own and this is the time of grace. If you refuse to come back you will be tried again for also leaving lawful custody.
In a statement on Monday, Enobore had said: "The Owerri Custodial Centre in Imo State has been attacked by unknown gunmen and forcefully released a total of 1,844 inmates in custody.
12 Prisoners Return To Owerri Custodial Centre
"The attackers who stormed the facility at about 0215hrs on Monday 5th April 2021, gained entrance into the yard by using explosives to blast the administrative block.
"They were said to have arrived at the centre in their large number in several Hilux pick-up vans and Sienna buses armed with sophisticated weapons and immediately engaged the security personnel on duty in a fierce gun battle. They eventually detonated the explosive to gain entrance.
"The Acting Controller-General of Corrections, John Mrabure has ordered a comprehensive investigation into the incident and in collaboration with other security organizations, commenced a search and recovery operations to recapture the fleeing inmates."