Confusion Over Alleged Attack On Igboho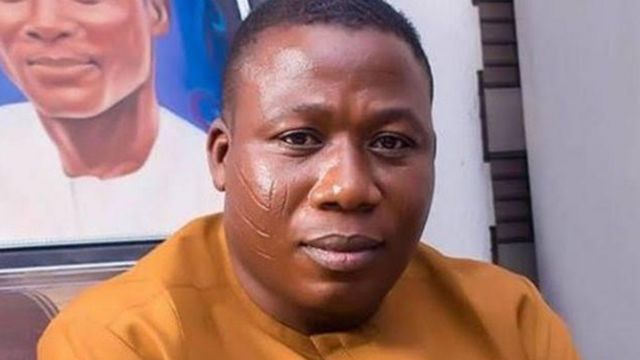 Confusion over the reported attack on the Ibadan residence of Yoruba rights activist, Chief Sunday Adeyemo also known as Sunday Igboho was deepening on Monday with aides, neighbours and state government officials disagreeing on the nature of the attack.
While two of his aides agreed that there was an attack, they, however, disagreed over the nature of the attack. Meanwhile, neighbours disagreed that there was an attack while a senior government official told GreenWhiteGreen GWG that there were reports of an attack which as at Monday morning yet to be confirmed.
 GreenWhiteGreen GWG had reported Igboho's media aide, Olayomi Koiki as saying that a combined detachment of the military had laid siege to the Ibadan residence of the Yoruba rights activist. Koiki had in the live video claimed that the military men were being resisted, but he didn't say how.
Another aide of Igboho's, however, said he could not identify who the attackers were.
Oladapo Salami, told SaharaReporters that there was truly an attack but the attackers were resisted.
He said, "Some people came but they were resisted. They came at exactly 1:30 am. We don't know them, we cannot say they were soldiers. All we can say is that some people came and they were resisted. We don't know who they were but they were resisted. We can't say they were from the Federal or state government. But the people were resisted."
Koiki in the live video, however, insisted that the attackers were from the Nigerian military thus bringing confusion over the alleged attack on Igboho.
He said,
"They've sent down people to come and shut us down, to come and tell us to keep quiet, to come and arrest Chief Sunday Igboho. You cannot arrest someone who is fighting for the peace of his people.
"The federal government of Nigeria thinks they can come in the middle of the night to arrest Igboho. They can not get inside. The gunshots you're hearing is not just a soundtrack, the federal government sent their men to shut us down from saying Yoruba Nation Now.
"They can't continue to kill and threaten us, and still bring it to our backyard, we are also holding them, we have pinned them down, how many of them, I will not tell you but we have pinned them down in their numbers. We have done what ought to be done. We will stand with Sunday Igboho, Iba Gani Adams.
"The federal government sent their military, armed forces and all their special forces. The governor cannot say he does not know about it. Seyi Makinde knows about it because all these things have been cooked by all these politicians.
"I am advising all Yoruba sons and daughters in Ondo, Ogun, Oyo, Ekiti, Kwara, Lagos to beef up security around their houses because if they can do this on Sunday Igboho's residence, then they can do same elsewhere. Sunday Igboho is doing very well with his family. There is a siege on Sunday Igboho's residence. We call on the international community. What we are saying to European Union, African Union and the international community and every network across the world is that someone who wants to fight for his people, the federal government has brought war to his doorstep.
"They sent people to come down and kill, you can't come at 3 am without a mission. They are attacking us but we are holding the fort, we have the right to defend ourselves."
However, the confusion over the alleged attack on Igboho deepened as some of the neighbours were said to have denied knowledge of an attack despite the claims of shooting.
Meanwhile, a senior officer of the Oyo State government contacted said he heard of issues in the area but was yet to confirm the nature of what happened.