Akpabio, Akpanudoedehe Make Peace In Abuja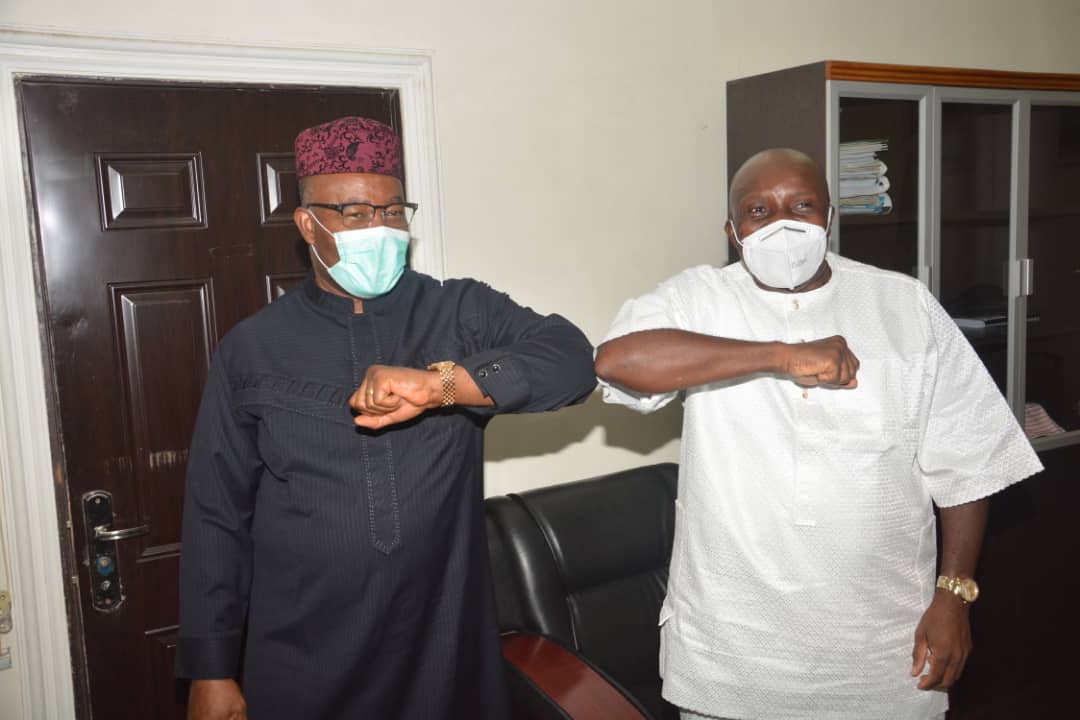 With their proxies in battle for ascendancy in Akwa Ibom State, Senator Godswill Akpabio and Senator John James Akpanudoedehe met in Abuja and shockingly declared that they have no problems in the state chapter of the All Progressives Congress, APC.
The two spoke when the minister of Niger Delta Affairs, Akpabio paid a surprise visit to Akpanudoedehe, the National Secretary of the Caretaker Extraordinary Convention Planning Committee CECPC of the APC at the national secretariat of the party.
GreenWhiteGreen GWG reports that before now that the two men had been at loggerheads and had attended parallel meetings of the Akwa Ibom chapter of the APC.
The war between the two camps followed the adoption of Akpanudoedehe for the 2023 governorship in the last week of March by a faction close to the state executive of the party.
The endorsement was followed by a rival meeting of Akpabio's supporters where the minister was chosen as the leader of the party. That meeting in Uyo was boycotted by the state party executive and most party leaders.
Before the meeting, the state executive made repeated public announcements asking party faithful to boycott the Akpabio meeting.
However, on Thursday at their first meeting in months in Abuja Akpabio and Akpanudoede passed off the crisis at home as imaginary.
Speaking after their closed door meeting, Akpabio while lauding Akpanudoedehe on his work as national secretary, said:
"the acting secretary of the party is from Akwa Ibom State. At a time he was one of my subjects when I was Governor in Akwa Ibom, but most especially he was one of my allies.
"He was my Director General of campaign organisation when I was coming in as a Governor in those days. So, I will say he was the pioneer of the uncommon transformation that took over the entire state in 2007- 2015. And during that tenure he served as a minister in the capital territory under the late president Musa Yaradua," Akpabio said.
He, however, did not mention that Akpanudoedehe left the PDP, joined the defunct Action Congress of Nigeria, ACN and contested against him in what turned out as the most violent campaign cum election in the state's history in 2011.
But on Thursday, Akpabio siad:
"So, it is not strange that I am here. This is my brother and my political juggernaut, my political ally. So, no matter what you read on social media, this is me and him, if you noticed, when I came in, he was not crying, instead when he saw me he was laughing.
"There has never been anytime we had issues together, we have never quarrelled with one another, in fact, we have always cooperated with one another, if anything, he will use his mouth to tell you how we used to dance 'Kokoma', holding hands together, then we go down and come up again, all these things happened in 2019 elections, when we tried to install the APC government in Akwa Ibom State, until there was a conflict from both within and without, and those efforts were shattered. And I don't want that to happen again", he stated.
Responding in the same vein, Akpanudoedehe expressing shock at the visit said:
"This visit is a surprise visit, it is like a girlfriend who has been expecting her boyfriend, when will my boyfriend visit for proposal, and I have been ambushed for this proposal. What will the girlfriend do? Excitement, that you have been waiting for this diamond. So I am happy that this proposal has come finally, because it is what I have been waiting for.
"Let me tell you something, it is like America, Britain or world powers. If a small country wants to survive, you have to rush to America to support you. So most of the problems are not personal. It is between small country and big country. So it may set confusion between two bigger countries, but if the two bigger countries understand how to deal with the issues, the issue becomes non issue and they have become non issue today", Akpanudoedehe said.