Cheers, Jeers As Fayose Mocks Mbaka, Buhari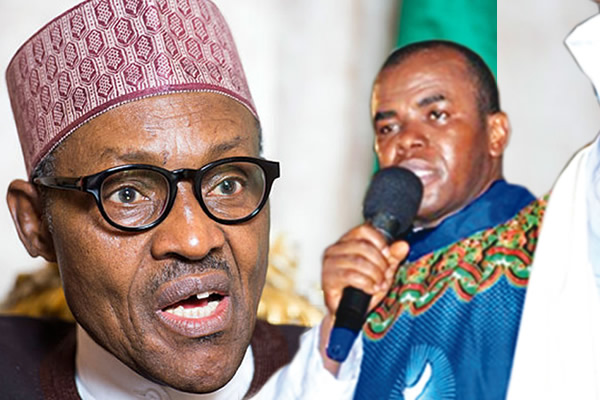 Former Governor Ayodele Fayose on Friday night enriched the political theatrics between the presidency and Father Ejike Mbaka when he called out the two combatants as blackmailers and scammers out to deceive one another.
Fayose stepped in after the presidency outed Mbaka with the allegation that the onetime impassionate supporter of President Muhammadu Buhari turned against the president after he was refused his plea for contracts.
GreenWhiteGreen GWG reports that Mbaka had during a recent sermon to his faithful bemoaned the spate of insecurity in the country with an injunction to the president to either resign or be impeached from office.
The presidency had in a reply on Friday night called Mbaka a blackmailer who turned against the president after his plea for contracts was rejected.
Entering the fray not long after, Fayose, a long time critic of Buhari and as such no fan of Mbaka rebuked the two saying that they were both blackmailers who do not deserve the attention of Nigerians.
The Presidency and Father Mbaka are nothing but blackmailers and scammers. They don't deserve the attention of Nigerians.
The reactions to Fayose were remarkably varied. While several Nigerians backed him that the two did not deserve the attention of the public, some people on the other hand also used the opportunity to poke Fayose with some recalling alleged misdeeds including the famous issue of the poultry project.
Backing Fayose on Friday night were:
O'gbemiga Winner @Ogbemiga_winner
Obviously, they're not telling lies against Mbaka. You see, many people do fight personal fights against a particular fellow without other people knowing; thinking its a fight for others. #MyPersonalExperience NOTE: I DON'T LIKE anything about Buhari& his Govt. but I like exposing.
Laqrist @laqrist
Am a catholic but can't stand by both
FABOLOUS J5 @BasilEde1
Am a core catholic but don't like the way mbaka delves into Nigerian politics
eben ola @eben_ola
I quite agree with you on this one Oshoko 1
Emmanuel Akindele @EmmanuelAkind17
If there's any reason I like the APC, they know how to divert the attention of Nigerians from the main problems to trivial issues. Na so we go soon forget the Isa Pantami's case.
Oweh Ewah @Ewahconcept
They know how to confuse Nigerians
Adedamola @BaakiAdemola
APC is now Al queda people congress don't move closer to them they can do and undo Oloribu niwon
Mcdel Chinwuko @ChinwukoMcdel
Peter the rock, let's sit and enjoy this movie. Things are falling apart
John @Johnddt
Anyone that turns around to criticize the government is always begging for contact Same
Sodal @sodalGold
Tweet of the day! Agents of the devil they all are.
AdaUma @PapaAkudo
Yahoo yahoo Boyz in cassock and agbada
There were, however, others who faulted the intervention by Fayose into the faceoff between Mbaka and Buhari.
Demola Emmanuel Osho @oshoemm
Is your own attention, that we deserves right.. Eti mad sir.. Because that's what you do most..
Ani Chidera Paul @AniChideraPaul1
And you are ?
sadiq adebola
@kbadebola
I guess u deserve our attention, ur unblemished records with judges in Ekiti state nd d poultry issue will continue to attract our attention