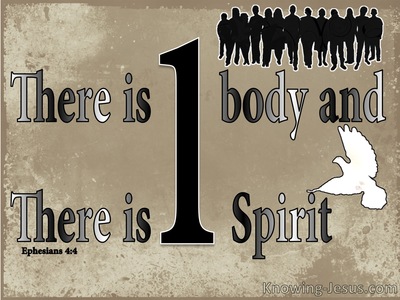 There is ONE BODY, and one Spirit, even as ye are called in one hope of your calling; Ephesians 4:4.
This points to the unity or oneness that is in the church of God. It's one body with diverse parts but only one head who is Jesus, the Christ.
It is our duty to discern this body, cherish it and play our role to nurture it into a strong and virile body.
This injunction of ONE BODY directly refutes the denominational spirit that has beclouded many people who see the body of Christ as limited to their own group.
Yes, whereas this tare of denominations has been planted, Jesus encourages us to suffer it for now, because at the end, when He comes, He will reckon with His body, His true body and not with any denomination whether INTERNATIONAL OR INCOPORATED!
Beloved, may God enlighten your eyes to discern this BODY of Christ anywhere and at all times. Today, you can join a sub-unit of that body of Christ meeting somewhere near you today.
Good Day
Send Us A Press Statement Advertise With Us Contact Us