Buhari's Supporters Rebuff PDP Offer Of Help, Say President Doing Well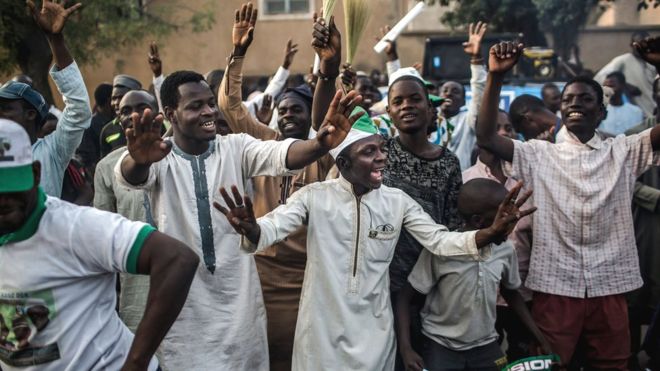 President Muhammadu Buhari's supporters under the aegis of the Buhari Media Organisation (BMO) have accused the Peoples Democratic Party (PDP) of rolling out a cocktail of lies and unhelpful rhetorics at its press conference on the state of the nation.
In a statement signed by its Chairman Niyi Akinsiju and Secretary Cassidy Madueke, BMO said that all the PDP Chairman Uche Secondus did in his speech was to turn facts on their head in order to paint a rosy picture of the party's 16-year misrule.
Buhari's supporters spoke against the background of offers by the PDP to help Buhari on the insecurity and economic challenges that have confronted the country.
"We have gone through the lengthy and largely incoherent speech titled 'Nigeria must not fail', delivered by PDP Chairman Uche Secondus, hoping to see something different from the usual diatribe by the opposition party, but we were highly disappointed.
"Rather than provide concrete suggestions in line with what he claimed he set out to do, Secondus chose to present falsehood as facts in order to extricate the former ruling party from blame on the security situation in the country.
"Even the Police are having a new lease of life with the Police Trust Fund put in place by the Buhari administration to meet the aspiration of a well-funded and highly professional Police Force which PDP largely left unequipped and underfunded.
"We are not unmindful of the security situation, especially the emergent threat of mass abductions and attacks on security facilities, but we are convinced that the government is not sleeping on the job, contrary to the impression the opposition party is giving", Buhari's supporters.
BMO also picked holes in PDP's claims on the economy and the debt profile.
"Any discerning Nigerian would know that President Muhammadu Buhari stabilized an economy that was in a free fall, losing 4% of GDP in the last three quarters of 2014.
"It was not until Q3 of 2015, which coincided with the first quarter of the Buhari administration, that the economy rebounded after three consecutive GDP decline.
"We make bold to say that a party that presided over a cash flooded economy yet borrowed so much, including money for salaries of workers would have sunk the country if it was in charge at this time of a global covid 19-induced recession.
"But, thankfully, we have a President who totally surprised the world by successfully navigating Nigeria out of recession faster than countries with more resilient economies".
BMO also urged Nigerians to disregard the opposition party's claim of a successful 2014 National Conference and see it exactly as how Secondus described it-something that was contrived to 'deescalate tension', and not meant for implementation especially as the then PDP-led National Assembly had termed it a jamboree.