Nwoye Lauds Peter Obi For Showing Leadership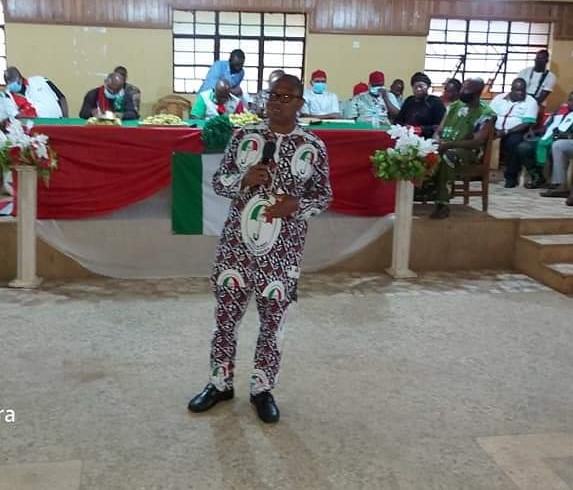 Frontline PDP governorship candidate, Dr Tony Nwoye has commended the immediate past governor of Anambra State and PDP 2019 Vice-Presidential candidate, Mr Peter Obi for showing exemplary leadership of the party in the state.
Nwoye, a former student activist turned medical doctor and politician particularly applauded Obi's tour of the wards and local government for the distribution of welfare packages.
Nwoye in a press statement on Tuesday, May 4, 2021 said that the activities of the former Governor of Anambra State had proved him to be worthy of his position as party leader capable of leading the party to victory in the November 6 governorship election.
Observing that Peter Obi is a leader who understands the yearnings of the people, Nwoye, a former member of the House of Representatives and chairman of the PDP in Anambra State further commended him for his selflessness and humility and said his numerous attributes have endeared him in the hearts of many.
"Mr. Obi has lived up to his responsibility as the leader of the party and deserves to be applauded for carrying everyone along through the level playing ground given to all the aspirants in the party," Nwoye who was recently cleared by the PDP screening committee to contest the PDP primaries said.
Apart from Peter Obi, Dr Nwoye also lauded the state leadership of the party who he said with their poise would break the jinx in rallying the PDP to victory for the first time since 2003.
"What we see is that the Hon Ndubuisi Nwobu led executive with its poise will usher the party into the Government House, given the sound leadership it is providing," Nwoye was quoted as saying by his Media Office.
Besides saluting Peter Obi and the state exco, for the leadership role they have played, Nwoye also saluted the party leadership at the local government and ward levels praising them for their unflinching support for the party saying that they remain the engine room of the party.