The Divorce Badge On World's Four Richest Men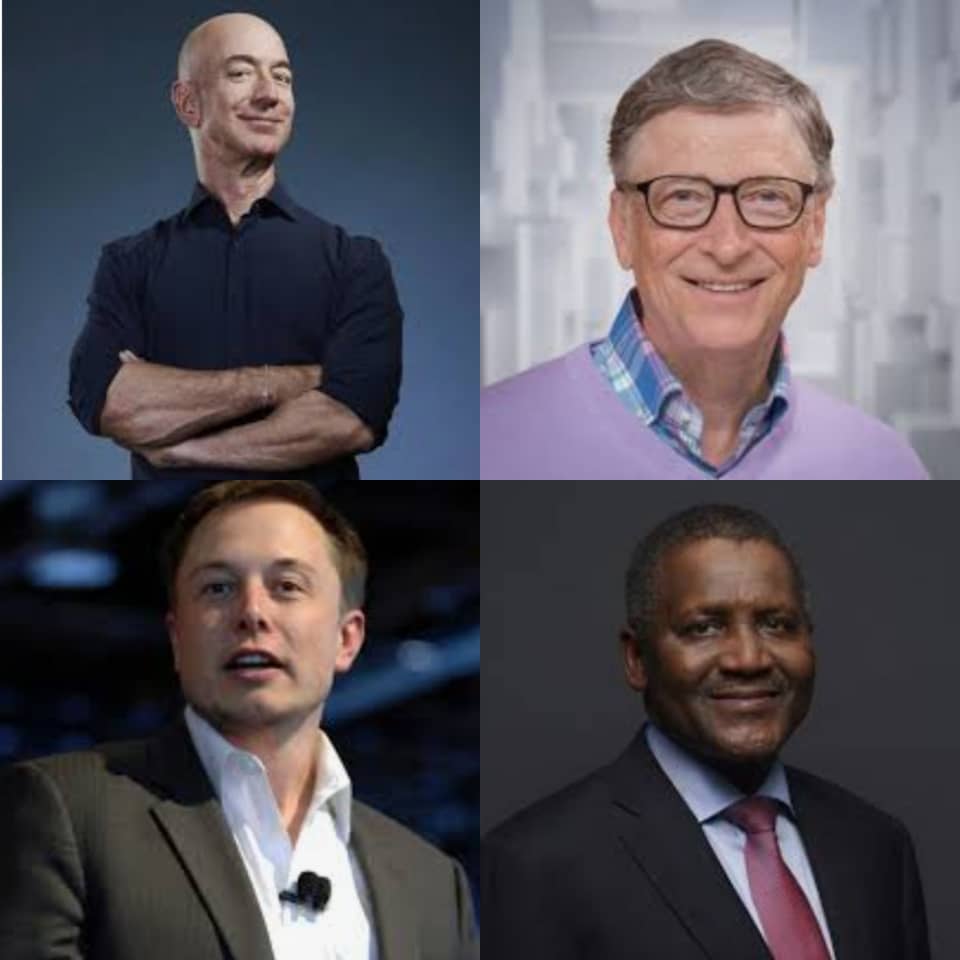 The news of the imminent divorce of Bill Gates from his wife Melinda, has brought to fore the fact that four richest men on earth at the moment have all been divorced.
Of the four, only one is maintaining a wife, a development that was on Tuesday bringing question as to the aptness of money in sustaining a steady marriage.
Nigerians who were noting the irony on social media were also brining it to light that Africa's richest man, Aliko Dangote was also living a single life.
Before Bill and Meliinda Gates, the world's richest man, Jeff Bezos who founded Amazon and has a total wealth estimated by Bloomberg to be more than $200 billion divorced from his wife, MacKenzie Scott in 2019. The divorce translated her fortunes making her the third richest woman on earth at this time and the 21st richest person on earth. She is presently worth more than $61 billion.
Mr. Bezos presently has a partner, Lauren Sánchez whom he has been with in a relationship since 2019.
Elon Musk, founder and CEO of Tesla Motors, chief designer of Space X, among other entrepreneurial endeavours is the second richest person in the world. Born with South African and Canadian citizenships, Musk with a present wealth of $187 billion has been married and divorced three times. He is presently single.
The third richest man on earth, the French luxury goods businessman and media proprietor, Bernard Arnault who owns about 97.5% of Christian Dior is worth $154 billion.
The man regarded as the richest man in Europe has also had a divorce badge having separated from his first wife, Anne Dewavrin in 1990. He remarried in 1991 to Hélène Mercier and they remain married. He is the only one among the four richest men in the world who is legally married.
Bill Gates with wealth reckoned by Bloomberg at N146 billion is the fourth richest person on earth at the present time. It is generally expected that the divorce would strip him from the position and advance Facebook founder, Mark Zuckerberg who is the fifth richest person with $120 billion to the number four position. Zuckerberg is, however, married.
Africa's richest man, Dangote is also known as Nigeria's most eligible bachelor having been married and divorced twice, the latest being to Mariya A D Muhammad Rufai.
Unlike his fellow billionaires he, however, goes to a far extent to cover his relationship with the female sex especially given his actions concerning an estranged Black American former partner.