Adeboye Goes To Preach Amid Condolences On Son's Death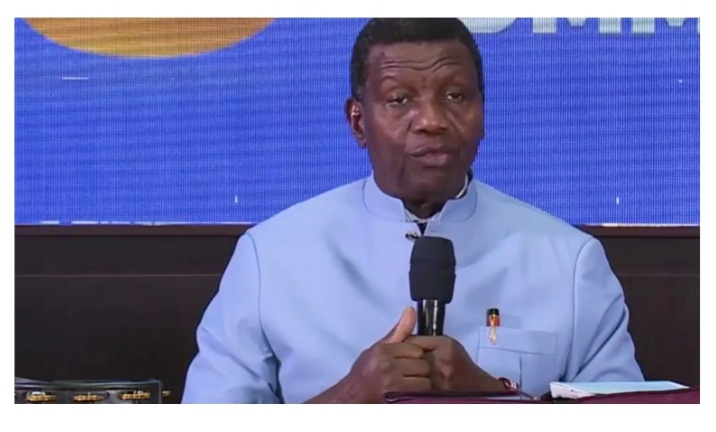 With the news of the death of his son, Dare at 42 reverberating, Pastor Enoch Adeboye general overseer of the Redeemed Church of God, RCCG on Thursday stepped out to preach in the church's Holy Communion Service.
It was the first time that he would be seen after the news of Dare's death on Tuesday May 4, 2021 became public on Thursday.
 GreenWhiteGreen GWG had reported that Dare Adeboye died in his sleep on May 4 of yet unknown causes.
The Holy Communion Service is a monthly programme of the RCCG. The May edition of the programme was themed 'Overflowing Blessings'.
The revered cleric who has been receiving condolences since Thursday morning from across the world was visibly shaken as he officiated in the Holy Communion service from the studio of the church's television ministry, DOVE Media.
From the studio he spoke to church members gathered across the world. He drew his message from John 6: 5-13 as he harped on the relevance of the bread and the wine as symbols of communion.
Adeboye Goes To Preach After Son's Death
"The bread multiplied in the hands of the disciples, as you receive the bread, it will multiply in your hands."
Following his sermon, one of the leaders of the church who took over after the sermon speaking to the congregation in the auditorium at the Redemption Camp, said:
"Tonight, daddy has prayed for us. He has also prayed on all the elements that we are going to use – the bread and the wine. I am here not standing in for him because I am too small to stand in for him; I am only here to deliver the message as a messenger.
"He could have been here physically as he used to but due to circumstances beyond control, he was not able to be here but to the Glory of God, he has said to us, Jesus is here and he is also there praying for us," he said of the decision by Adeboye to preach from the DOVE Television studio.
Send Us A Press Statement Advertise With Us Contact Us