Buhari Sad As Lady Who Ditched Him For Atiku Dies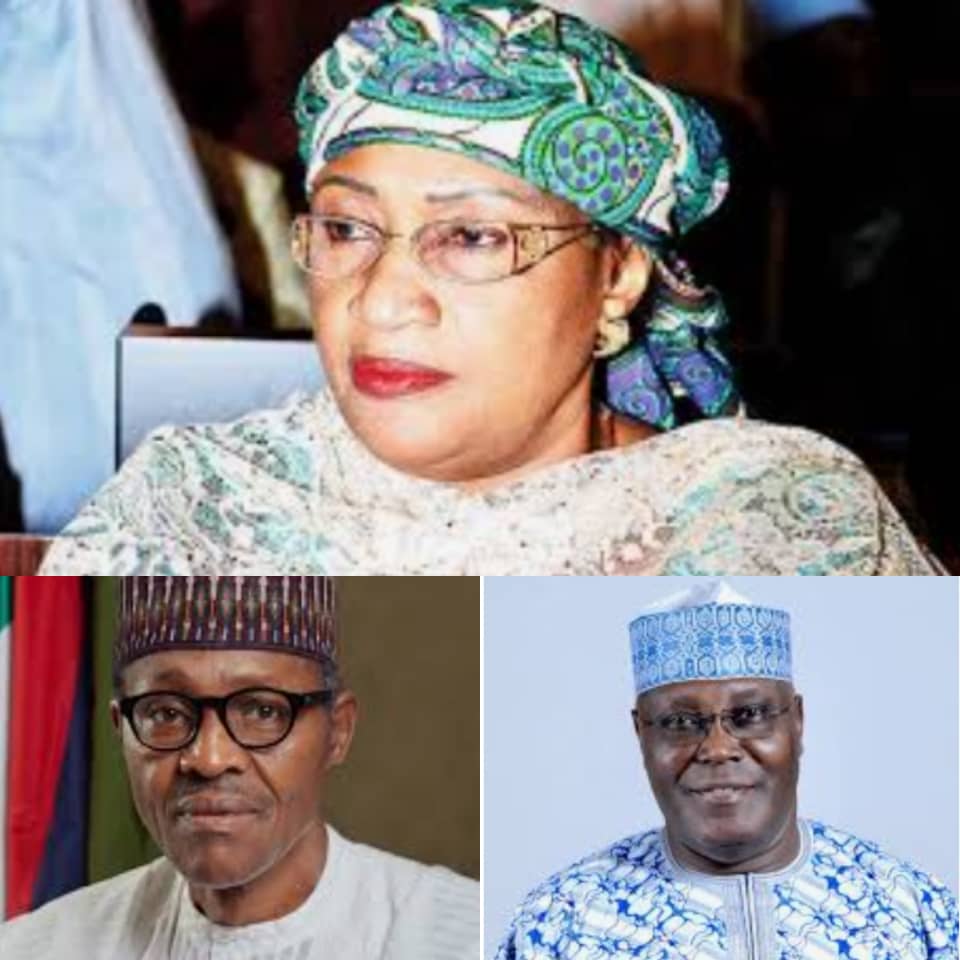 President Muhammadu Buhari has mourned the death on Friday of Senator Aisha Alhassan, popularly known as Mama Taraba and who served his government as minister of women affairs between 2015 and 2019.
A statement from the presidency said that Buhari was deeply saddened by the death of Hajiya Aisha Jummai Al-Hassan, in Cairo, Egypt.
President Buhari said:
"The demise of the notable politician, Aisha Jummai Al-Hassan has left many saddened. Both in office and out of office, her concern for the education of the girl child, especially those of Government Girls Secondary School, Chibok, who were abducted by Boko Haram terrorists, shone through.
"Her death is a huge loss not only to the female gender activist community but to the country as a whole. Our condolences to her family, friends, National Assembly and government and people of Taraba State."
GreenWhiteGreen GWG reports that Aisha Alhassan had stirred controversy in 2018 when she affirmed that she would not support Buhari for a second term if Atiku Abubakar decided to contest.
Defending her stance, she said:
"And again, Baba Buhari did not tell us that he is going to run in 2019." "Let me tell you today that if Baba said he is going to contest in 2019, I swear to Allah, I will go before him and kneel and tell him that 'Baba I am grateful for the opportunity you gave me to serve your government as a minister but Baba, just like you know, I will support only Atiku because he is my godfather. If Atiku said he is going to contest."
"If because of what I said, I am sacked, it will not bother me because I believe in Allah, that my time has elapsed that is why…"
"Baba is not a mad man like those calling for my sack. They have been sending it and spreading that if Baba sees this I will be sacked."
Atiku mourns Aisha Alhassan 
Reacting to her death, Atiku said in a statement in Abuja on Friday evening that "Aisha Alhassan was a reliable political ally and a foot soldier who was passionate about her political convictions."
"I am grieved by the loss of former Sen. Aisha Alhassan.  I asked about her condition this (yesterday's) afternoon after I called her number without a response!", Atiku said.
"I can't forget her dedication and how she stood by me through thick and thin in the course of my political career," the former Vice President recalled adding, "I really have lost a sister and loyalist."
Against the background of her famous declaration in 2018 backing him against Buhari, the former Vice President, said Aisha Alhassan was not only sincere, but also worked very hard for the achievement of whatever cause he (Atiku Abubakar) set himself to accomplish.
He said that Mama Taraba, as she was popularly known, was an accomplished civil servant, astute politician and patriot. She was compassionate, loyal and deeply committed to a better Nigeria.
He pointed out that one of the qualities he admired about her was that she was a determined fighter who never gave up to despair.
"You must also give Aisha Alhassan the credit for breaking the political glass ceiling in an environment in which many women are scared of joining politics because of cultural and traditional stereotypes. Overcoming such formidable obstacles to make an impact is no easy task", Atiku further extolled her virtues.