Missing N162bn: Bala Usman Hits Back At Amaechi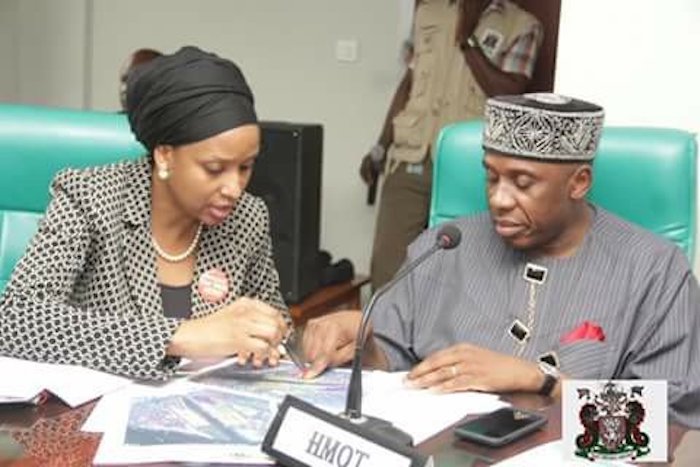 Ms Hadiza Bala-Usman, the All Progressives Congress, APC chieftain has denied allegations of misappropriation of funds leveled against her by Rotimi Amaechi, the minister of transportation in the course of her duties as managing director of the Nigerian Ports Authority, NPA.
Ms Bala-Usman was suspended from office upon the demand from Amaechi to President Muhammadu Buhari for an investigation of the NPA's finances.
Bala Usman in a memo to Ambassador Ibrahim Gambari, the Chief of Staff to the president, poohpoohed the claims of the minister and the Budget Office of the Federation saying that wrong assumptions were made in arriving at the allegation of a N163 billion shortfall in the remittances from the NPA since 2016 when she was appointed.
According to her the alleged shortfall was derived from budgetary assumptions and not actual amounts. She said that her point could be verified by the office of the Accountant General of the Federation.
According to her, the actual operating surpluses between 2017 and 2018 were N76.782 billion and N71.480 billion respectively and not the sums of N133.084 billion and N88.79 billion claimed in the budget submission.
Bala Usman added that based on the model provided by the Fiscal Responsibility Commission, the accessible Operating Surplus of the Authority for the period stood at N51.09 billion and N42.51 billion for 2017 and 2018 respectively, against the premise used by Amaechi in raising his query.
She said:
"Accordingly, the authority consequently made a remittance of N42.415 billion and N33.969 billion for the years 2017 and 2018 respectively for the full amount required as remittance for the period (attached herewith are the treasury receipts).
"Based on the above, we wish to clarify the following: (1) The Authority's computation of its remittances to the CFR are concluded arising from numbers from Audited Financial Statements using the template forwarded to the Authority from the Fiscal Responsibility Commission.
"That the Authority has remitted the full amount due it to CFR for the periods 2017 and 2018 arising from the Operating Surplus derived from the Audited Financial Statement for the period totalling N 76.384 billion as evidenced in attached treasury receipts.
"That the Authority has remitted a total of N 82.687 billion for the period  2019 and 2020 pending the audit of the financial statement at which point the amount so computed arising from the value of the Operating Surplus in  the audited financial statement will be remitted to the CFR" she added.
Send Us A Press Statement Advertise With Us Contact Us