AFRICOM: US Didn't Refuse Buhari – Supporters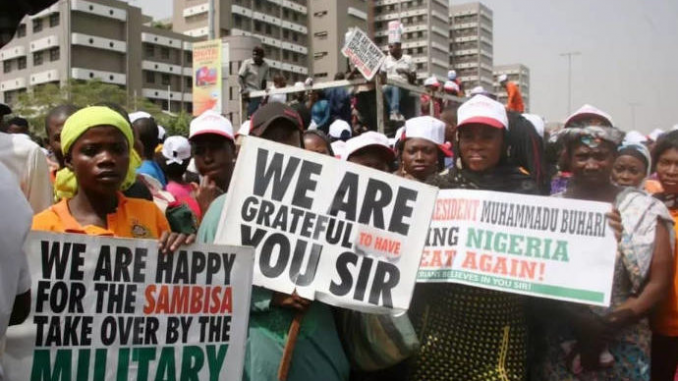 Supporters of President Muhammadu Buhari have denied reports that the president asked the United States to relocate the headquarters of the African Command, AFRICOM from Germany to Nigeria.
The denial came in the wake of reports that the United States had recently denied the purported request made during the virtual meeting between Buhari and the United States Secretary of State, Mr. Anthony Blinken.
Speaking through the Buhari Media Organisation (BMO), the supporters said that at no time during that meeting did President Buhari request the United States of America to relocate the AFRICOM headquarters from Stuggart, Germany to Nigeria.
"Rather, President Buhari, in the spirit of Nigeria having Africa as the centrepiece of its foreign policy, noted the need to site the AFRICOM headquarters in Africa.
In the statement signed by its Chairman Niyi Akinsiju and Secretary Cassidy Madueke, the group said "based on the security challenges facing African countries particularly Somalia, Mali and Libya, among others, it is only reasonable that the United States should have its AFRICOM operational office on Africa in the African continent.
"We also note that the United States Secretary of State had at the meeting acknowledged that Nigeria remained its strategic partner, and pledged improved cooperation between the two countries. It is also noteworthy that Nigeria was the first port of call in Africa by the new US Secretary Blinken.
"We consider the false impression being created in certain quarters that President Muhammadu Buhari expressly requested the United States Secretary of State to relocate the AFRICOM headquarters from Germany to Nigeria as a misrepresentation by a section of the media. There is no portion of the speech the President delivered at the virtual meeting that mentioned a request for the AFRICOM headquarters to be relocated to Nigeria.
"We, therefore, want to disabuse the minds of the people who may have been holding the wrong views about the president's comments at the meeting or feeling such request must have been made based on the country's security challenges".