Dare Adeboye: I Weep, But I Won't Mourn – Wife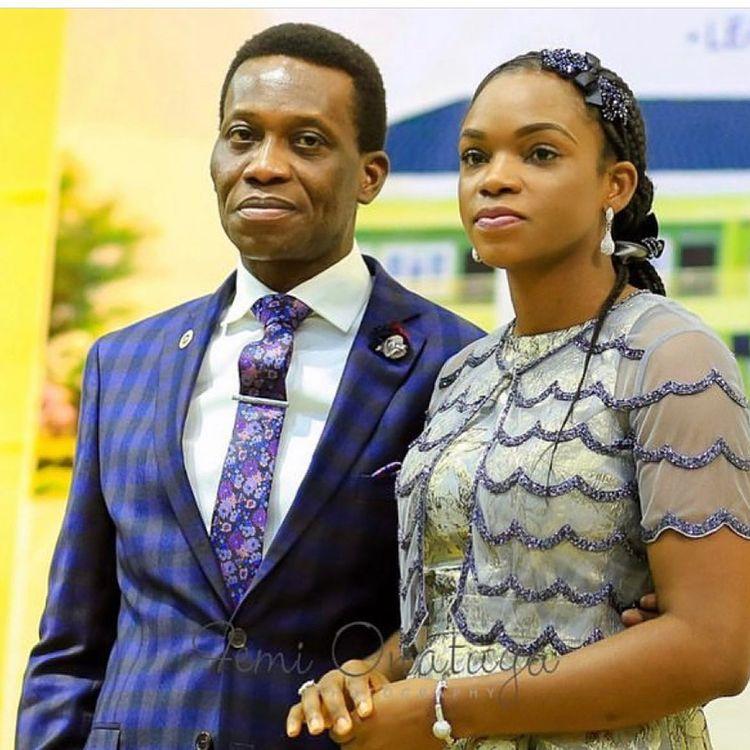 Temilade Adeboye, wife of the late Pastor Dare Adeboye has said she would not mourn his demise on the point that she was very certain of his passage into the realm of the saints triumphant in heaven.
Speaking publicly for the first time since Dare's death last Tuesday, Temilade said the late Pastor Dare Adeboye was never afraid of death and passed on quietly in his sleep without struggle.
GreenWhiteGreen GWG reports that Dare Adeboye died last Tuesday, May 4, 2021 at the age of 42.
The wife spoke during an evening of worship and tribute held in his honour on Monday at  RCCG House of Favour, Redemption Camp, Lagos-Ibadan Expressway.
She said: "Pastor Dare my husband was a wonderful person. He was amazing. I do not mourn him at all, I weep because he left me. He slept, he did not die. I know, I am sure that on the resurrection morning he will rise again and we will see him in glory.
"I am sure because he was saved, because he believed in Christ. His salvation was sure, it was certain. He was not afraid of death. It is not a matter of how short but how well. He lived well, he lived a good life. He lived to the glory of God. His life was dedicated to Christ. That is why I am sure he is in heaven"
GreenWhiteGreen GWG reports that the father, Pastor Enoch Adeboye, General Overseer of the Redeemed Christian Church of God Worldwide, had last Friday during the monthly Holy Ghost service of the church at the Redemption Camp, Lagos-Ibadan Expressway, Ogun State, spoken in a similar manner.
During his ministration he had affirmed that all that are presently in the hands of man belong to God who can take it at anytime.
"Whatever we have is given to us by God, be it wealth, wife, husband, children e.t.c and if it got taken away by God, all we can do is give God glory for actually giving us the privilege to enjoy those wealth or kids temporarily and it is not for us to complain, blame and question God.
"What we see as sorrows might be joy in the sight of God, I mean His ways and thoughts are not the same with ours, we shouldn't forget that both good and bad happen at God's command.
"Finally, in all things, let's learn to say thank you Father, and it is well. God bless all of you in Jesus' name."
Send Us A Press Statement Advertise With Us Contact Us