On His Knees, Mbaka Begs Bishop, Catholic Church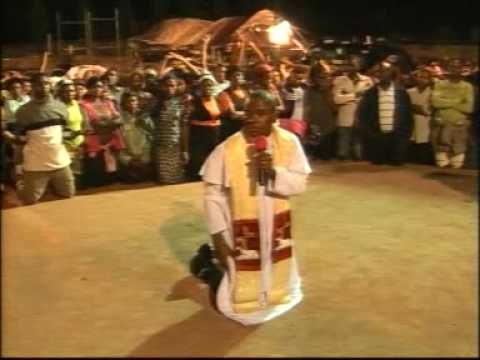 Spiritual Director, Adoration Ministry Enugu Nigeria (AMEN), Rev. Fr Ejike Mbaka went on his kneels on Sunday to make profuse apologies to the Catholic Church and Bishop Callistus Onaga over the behaviour of his adherents in Enugu following reports of his 'disappearance' a week ago.
GreenWhiteGreen GWG reports that followers of Mbaka had marched around Enugu, last Wednesday, May 5, demanding his immediate release from what they alleged was a forced detention by Bishop Onaga.
In the ensuing melee the followers thronged the Bishop's Court in Enugu and vandalized it.
Speaking publicly over the issue at the Adoration Ground on Sunday before his supporters, Mbaka said that he did not send anyone to go and destroy saying that he was not against the Catholic Church or Bishop Onaga even as he alleged a conspiracy by some to pitch him against them.
"My bishop and I are not arguing, there is no dispute between us. A lot of people want to put conflict between us, but what's inside of me won't allow it to succeed," Mbaka said.
"I do not fight the Catholic Church. It cannot happen. All I have is the church. I have worked in the church for more than 25 years. Why should I start fighting it?"
"I go on my knees and apologise to the Catholic Church for everything that happened. If I have said something wrong, please forgive me."
"In all honesty, Father Mbaka here has no problem with the church. I don't have any problem with my bishop; people want to achieve it but they cannot allow it. Because I have something in me that will conquer all this problem — the gift of humility and the obedience of the church."
Reflective of his sobriety, the priest urged his adherents to join the one week prayer and fasting ordered by the bishop to seek  God's forgiveness for what was described as the desecration of the church by supporters of the Adoration Ministry.