Deep Conspiracies Shadow Aso Rock Robbery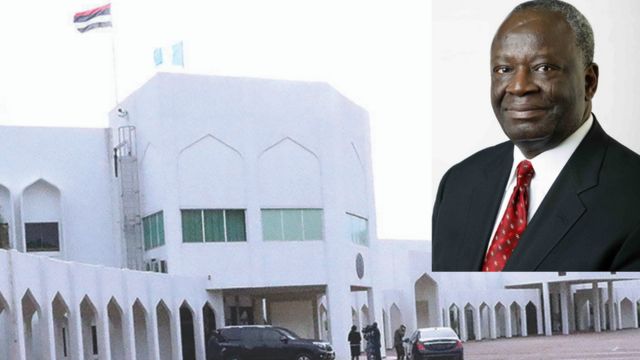 The report that one of the most secured places in the country, the Aso Rock was invaded by armed robbers who ransacked the residence of Prof. Ibrahim Gambari, the chief of staff to the president has sent Nigerians into a bubble.
While the initial report was welcomed with disbelief with presidential aide, Bashir Ahmad describing the exclusive report by Peoples Gazette as fake news with the claim that anything written by the online newspaper should be taken with a pinch of salt, presidential spokesman, Garba Shehu late on Monday confirmed the news.
Mallam Shehu had described it as a foolish attempt putting Nigerians to wonder as to where is safe in the country.
Reactions to the report has ranged from disbelief to consternation and to abandonment of hope in the country.
Among those who set aside the news as fake were:
Bashir Ahmad @BashirAhmaad
"Armed robbers invade Aso Rock, empty Buhari's chief of staff Gambari, admin officer Maikano's residences" STILL AN EXCLUSIVE FAKE NEWS. People of understanding and reasoning of course understand the difference between an 'attempt' and an 'invasion'.
Senior Man OA @Biisi96
Armed robbers entered aso rock. !?????? Lol, if you've ever been anywhere close to aso rock you'd know how ridiculous it sounds. Make all of us Dey look sha.
Onye Nkuzi @cchukudebelu
I don't believe "armed robbers invaded Aso Rock", this is a cock and bull story, if I've ever heard one. Somebody, somewhere is trying to hide something.
ALHAJI.OMO IYA WAEC. @OMOIYAWAEC77
You will be generationally MAD to think anyone could invade ASO ROCK, the most protected building in Africa. What the fuck do these children of sadness take Nigeria for? Mogadishu?
Many others, however, saw the report as another evidence of the gradual collapse of government. Others also read a conspiracy into the alleged robbery with the claim that it was done to steal sensitive documents in the residence of the Chief of Staff.
They said:
Rinu #EndSARS @SavvyRinu
The Presidency says news about Armed Robbers in Aso Rock is fake. The same Presidency says it's true. Which Presidency we go believe like this?
IFA FUNSHO @funshographix
I just read now that armed robbers entered Aso Rock. Armed robbers entered Aso Rock to rob armed robbers. Nigeria should be a comedy channel on gotv and dstv. Buhari is the jokest president of all time.
Premier @SodiqTade
Gazette released exclusive that they robbed at Aso Rock and they pointed it out clearly that Chief of Staff was robbed, Bashir came out to debunk and called it fake news. Garba Shehu confirmed that they burgled CoS house. Confused Presidency. Gazette 1, Presidency -1.
Olóyè Ajíkawó @Phlowz
I see everybody is saying "breakfast" but not seeing the bigger picture here: Aso Rock is supposed to be a fortress, and anyone who can break in has insiders. This is a test run — supposedly on the alleged "coup" story. You don't get it?
Dr. Dípò Awójídé @OgbeniDipo
The Presidential Villa is actually inside Aso Rock. Aso Rock is huge. Armed Robbers that attempt to rob inside Aso Rock want a death wish. Armed Robbers that attempt to rob inside Presidential Villa? Maybe they offended their evil step mother or they want to die a painful death.
#OurFavOnlineDoc @DrOlufunmilayo
People's Gazette report armed robbers invade Aso Rock and stole valuables from the residence of President's Chief of Staff. I hope the Presidency addresses this and tell us it's not so. Because omo. Armed robbers. Inside Aso Rock. Presidential Villa. Is Nigeria a horror movie?
Surayyah Ahmad @surayyah__ahmad
Yes, they are different. But many residents of Aso Rock believe it is one of the most secure place in the country, considering proximity to Villa. A robbery in Aso Rock is thus a cause for concern.
ibu Thomas @Hailfinger1
Armed Robbers in Aso Rock? Is this a joke? Where is President Buhari who promised to lead from the front?
Presidency confirmed that there was "a foolish attempt" to burgle Professor Gambari's residence at 3 am on Monday inside Aso Rock, but it turned out to be unsuccessful" This is absolutely unbelievable! and the very height…1/3
bar ifeanyi ejiofor
@EjioforBar
ME.Violent attack/robbery taking place right inside Aso Rock -Nigeria seat of power! Where else is safe my people?This criminals has taken over Abuja..Is it not better the "President in absentia" kukuma hand over power to these terrorist presently invading the Seat of power..2/3
…than waiting for innocent Nigerians to be consumed by these blood-sucking demons,who are now making "foolish attempt" to attack Residents of ASO ROCK? Nigeria is gone indeed! We are going home Umuchineke! There was a country!
FS Yusuf @FS_Yusuf_
As much as I know that no place is secure in Nigeria today, I don't believe "armed robbers" invaded Aso Rock. Those guys possibly made up a shenanigan to cover up against a brewing case which they'd tell us some documents got missing. Remember we've Hadiza Bala case on ground
OOJA… @PoojaMedia
If your car got spoilt around that barracks around Asokoro, you either carry am for head or just forfeit your car. You can be gun down for loitering & waiting. How Burglars get mind to near a house close to Aso Rock should get us worried as a country.
FS Yusuf @FS_Yusuf_
Na lie. Armed robbers no invade Aso Rock. I nor believe. The Chief of Staff Office has critical docs having the President's signature. That was possible a cooked up story to cover up for a secret displacement of critical documents that might expose some hot secrets later days.
YourFavLawyer @jagganiyu
Armed robbers in Aso rock? They robbed two different places? Nobody was caught or arrested? Lol what kind of movie is this?
DaddyMO @therealdaddymo1
The circus at Aso Rock is in full swing.
𝐌𝕆𝐇𝐍𝐈𝐂𝐄 @Mohnice_
Lol…. so Robbers robbed Gamari's office in Aso Rock. Joke of the Century! Funniest joke coming from Buhari's administration. if it's true, then we are doomed. It means, there is no Government or president as well as Security agencies in Aso Rock, talk More of Nigeria
Somto Okonkwo @General_Somto
While Armed Robbers Were Busy Invading Aso Rock, The Nigerian Army Was Arresting Vendors Selling Publications Containing IPOB News, Shooting & Harassing People Unprovoked At Douglas Road, Imo State. These Are The Evil Happening Under Your Watch
Zinny Kalu @ZinnyKalu7
Since unknowns Armed robbers don dey invade Aso Rock way supposed to be the safest place, Biko, I'm doing bonaza oh, I do Somalian passports at cheaper and affordable rate, patronize your girl.