What I Will Do To Obiano's Projects – Onyemelukwe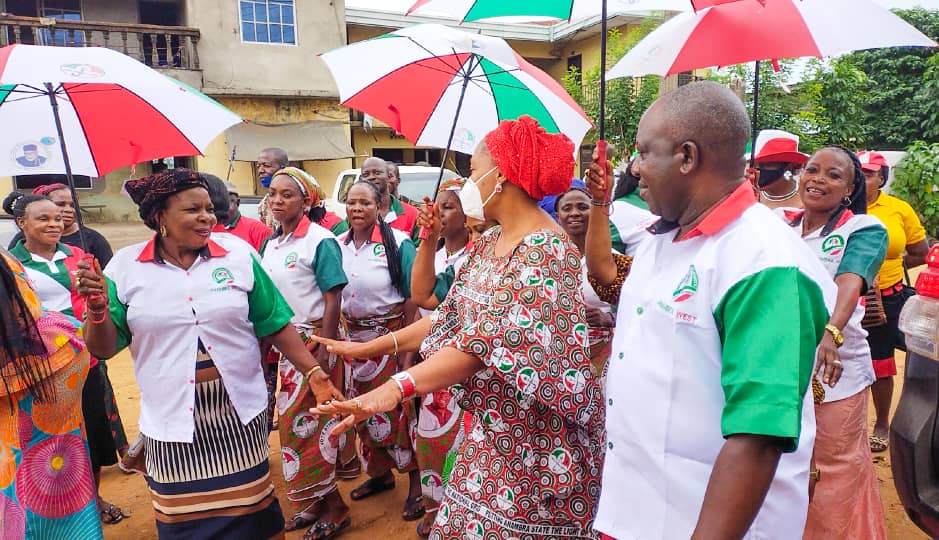 PDP governorship aspirant, Lady Chidi Onyemelukwe has promised to complete all viable uncompleted projects to be inherited by her if she is elected governor of Anambra State in the forthcoming election.
Onyemelukwe made this known on Wednesday in Umueze–Anam when she conferred with Anambra West LGA statutory delegates of the party.
"Yes, we are coming to execute our own policies and programmes but we will implement an integrated approach to governance, whereby thorough assessments of project viability both from fiscal and economic viewpoints will be made, and those that pass the mark will be continued.
On how she intends to fund the projects, Onyemelukwe who was the deputy governorship candidate of the party in 2017 and served as the Special Assistant to President Olusegun Obasanjo on SMEs said she intends to run a lean, efficient and an SME-centric government. According to her, this will free up resources which will be rechanneled  to people–oriented projects.
She said her government, would ensure that internally generated revenue (IGR) is with innovativeness and technology, improved upon and efficiently managed.
"Additionally, we commit to running an accountable and transparent government. Once we meet certain governance thresholds, we will qualify for and be more attractive to our development partners for the inflow of foreign and domestic direct investments and grants which would help us better serve our people. Anambra has done it before. By the mercies of God, we will do it again.
"In all of this, we are not unmindful of the fact that despite the best motives," she continued, "campaign promises, manifestos and plans of all governorship aspirants, including myself, are premised on publicly available information. There are certain facts about the government that will remain fully unknown until you get in.
"For instance, we hear of Anambra's rising debt profile. More so, we anticipate that the current fiscal and security environment will further impact Anambra's IGR and other revenue windows.
"What you have in me is the commitment to follow through on my words. That is why I choose and qualify them carefully. Where it becomes operationally necessary for us to tweak on our plans, we will come back to the people and offer explanations as to why we need to collectively take a different course of action. That is accountability, that is transparency, that is inclusiveness. That is adaptive leadership, and I totally subscribe to it."