Bode George: My Secret Score With Tinubu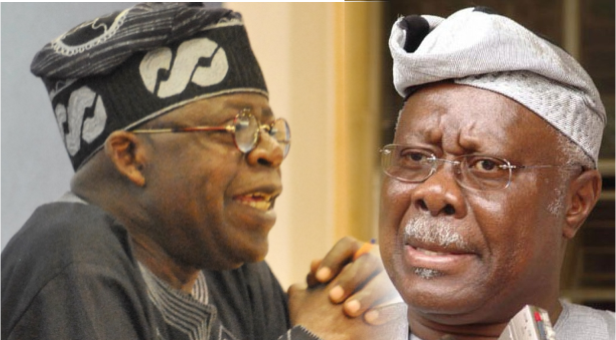 Chief Bode George has opened up on why he is perpetually in conflict with the National Leader of the All Progressives Congress, APC, Asiwaju Bola Tinubu despite their common Yoruba ancestry.
Speaking in an interview with Daily Sun, the former military governor of the Old Ondo State and Deputy National Chairman of the Peoples Democratic Party, PDP pointed at what he described as the draining of the common resources of the people by an individual.
Asked by the interviewer if there was a secret score as to why he was in perpetual opposition to the APC national leader, Tinubu, Bode George said:
"How and which score? You know I am from Lagos Island. When you go home, you see those boys and girls jobless, you see the state of the schools, and you wonder what is going on?
"But when you know that the financial resources are very heavily available and one man in one year takes billions from our coffers, think of how many children that will benefit from that if it was used in the state."
"But he is there sitting. He is the one who appoints who will be chairman, speaker, are we running an emperor system? I have absolutely nothing personal between me and him. If for example he has factories, you will know how he is making his money," George said.
Asked of what will happen if Tinubu emerges as the presidential candidate of the APC, Bode George said:
"Let them put him forward then we will campaign to the people, they will hear. If we continue the manipulation of the system with the money, didn't you see what happened during the last election with the bullion van," Bode George asked of the controversy generated by the presence of a bullion van in Tinubu's residence during the last General Election.
"Was it carrying food or carrying drinks to his house? These are the issues building up these time bombs in Nigeria. People may not talk but they are building up the anger in them.
"You think they are not watching and because they haven't gone on the streets you think all is alright? No. they are not happy.
"Who the hell is this boy appropriating all the resources of the people? Things that they should use to benefit the people? That leads me also to the system of the electoral process."
"Is the rubbish we are doing an election? If the people cannot have an impact why are you saying you are running a democratic dispensation? It is their votes that keep you there."