Edo PDP: Our Quarrel With Obaseki Is Storm In A Tea Cup
– We Must Avoid Storm In A Bowl- Party Stakeholder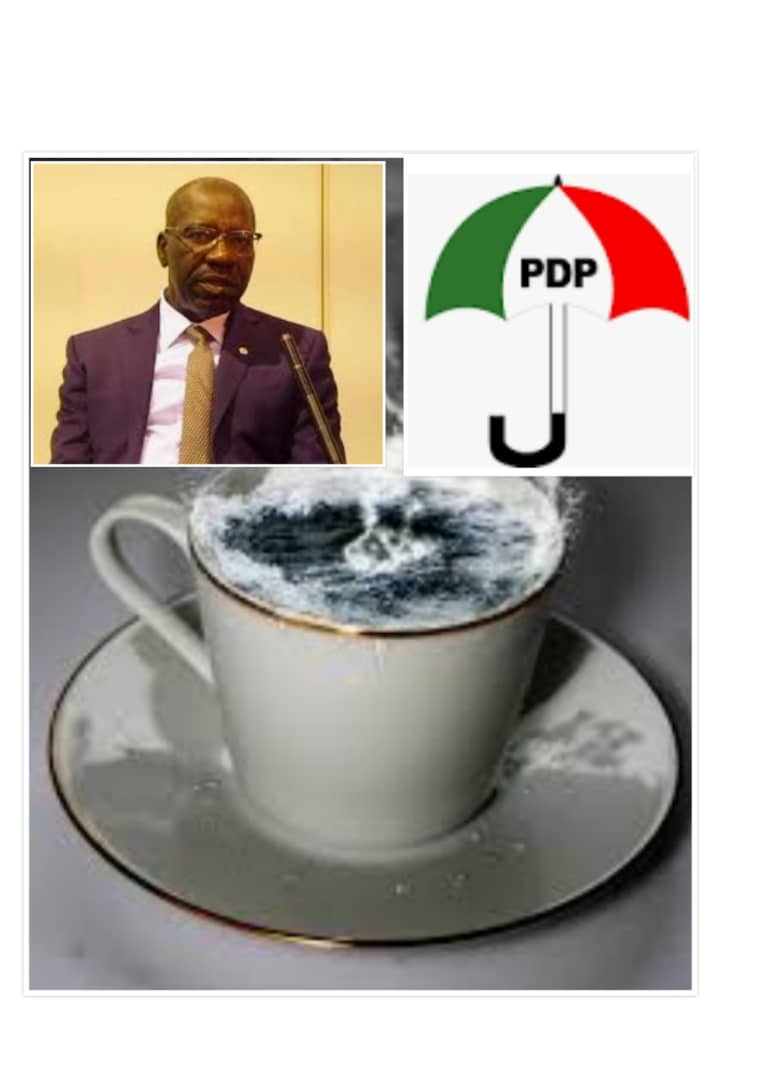 The People's Democratic Party, PDP, in Edo State has described reports of a faceoff between the party leadership and Governor Godwin Obaseki as a storm in a tea cup.
GreenWhiteGreen GWG had reported the faceoff following a meeting between the governor, party chairman, Dr. Tony Aziegbemi and some loyalists of the governor where the party chairman was requested to dissolve the party structures at all levels.
In a sharp rebuff, the enlarged State Working Committee, SWC with all Local Government Area chairmen had vowed to stay put as they asked that the deputy governor Mr. Philip Shaibu and the Secretary to State Government, Osarodion Ogie be dropped if he really desired a harmonization as requested.
Responding to the mutterings in a statement on Monday, the leadership of the party in the state, however, described the development as a storm in a tea cup which would soon be resolved in the true nature of the PDP.
The statement issued by Mr. Chris Nehikhare, the spokesman of the party in the state said:
"The Peoples Democratic Party, PDP is not oblivious of the uneasy calm that had enveloped the Party and by extension the State in the last few days. It could well be described as a storm in a tea cup!
"As a result, the State Working Committee has since been consulting with various cadres of leadership including His Excellency, Governor Godwin Obaseki, the leader of the party in the state, the National Vice Chairman South-South of the People's Democratic Party, Chief Dan Osi Orbih, members of the National Assembly elected from the state as well as leaders and stakeholders of the party from across the eighteen local government areas.
"We wish to inform our teeming supporters and good people of Edo State that the events that led to this unfortunate and regrettable situation are being addressed and in the true PDP spirit of Edo First, a lot of progress has been made.
"Edo PDP calls on all its members and especially the general public to continue to resist merchants of falsehood and propaganda whose only agenda is to destabilize Edo state.
"We must restate that His Excellency, Governor Godwin Obaseki and PDP are desirous of a state that is prosperous, peaceful, united, secure and healthy. A partnership built on cooperation and collaboration.
"Governor Godwin Obaseki and PDP will continue to deliver on good governance," the statement deposed.
However, a party stakeholder responding to the statement told GreenWhiteGreen GWG that all sides to the conflict should pursue peace in sincerity in order to avoid a major crisis.
The party stakeholder said:
"If all that I saw in the past few days is "a storm in a tea cup," then we must all avoid a storm in a bowl. Certainly such a storm will be uncontrollable. God help us."