Tributes Pour In For WAZOBIA Pilot Who Died Three Months After Wedding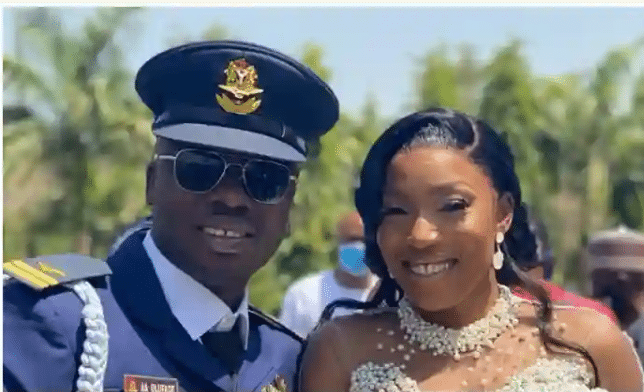 Tributes have been pouring in to celebrate the life of, Flt. Lt. Alfred Olufade, the deceased co-pilot of the plane that crashed killing the Chief of Army Staff, Lt. Gen. Ibrahim Attahiru, and his entourage in Kaduna. Nigerians on social media were also amenting that the late co-pilot died three months after his wedding.
While many were lamenting the death of the Kogi State born Olufade, it was also emerging that Olufade was a man who touched several Nigerians from all tribes and religions.
Hausa, Yoruba, Ibo and people from minority groups were among those who claimed to have a personal touch of the deceased officer who married less than three months ago.
Ahmed Kabir tweeting at @Sir_KB wrote that the pilot died few months after his wedding:
My heart is in pain. Broken. I lost my friend. Flight Lt. AA Olufade. He got hitched months back and often teased me to get out of the bachelorhood. Rest well Freddy.
Emma ik Umeh (Tcee ) Flag of Nigeria @emmaikumeh
Someone Very close to me, was among those who died in the plane crash. He just got married 3 months ago. Men!! I'm broken.
This is someone, who I saw 3wks ago. Omo, I can't believe Alfred Olufade is gone.
Halimah also in her comments wrote on twitter:
Michael Odoh @myyky92 in his comments on the pilot but without mentioning the wedding, said:
My friend of 18years.Classmates since Secondary school.. Housed me at the Air Force base in Kaduna for one when I started my Masters degree at the Nigeria Defense Academy Kaduna. This was not the plan brother. One more drink night with you is all I want.
Okey @Okeydegeneral
Barely two months ago, we were all together at the home of FLT LT Alfred Olufade to celebrate his marriage ceremony. Hearing the news of your demise is shattering to say the least.
A friend, a brother and a confident. May God rest your soul
FAHD @Muhamz_
I can't stop thinking about LT AA OLUFADE'S wife I mean what she will be going through now
It's just 2months mehn
ShadeFames @Jadesh24 while noting that the pilot died not too long after his wedding lamented the speed with Nigeria is losing her stars.
Yes, being prepared is good but not all are quick and random as Nigeria's. So sad, Nigeria's force is loosing many bright minds and resources to too many crashes. Serious Foreign nations will count us as nothing
VeektorSings @veektor_sings writing on how the wife of the pilot prepared for the wedding, said:
My cousins friend she was so hyped bout this weeding so sad how it ended barely three months into it
Earl Jude ➐ @JudeEdoga @im_xanmex
OMG. why this unfortunate thing to this beautiful lady
NEVER GIVE UP JUST ONE-DAY @nayolink
Na wa two months old marriage This lady done suffer Just thinking