Bono Energy Services Terminal Donates N2.55m Health Insurance For 300 Lagosians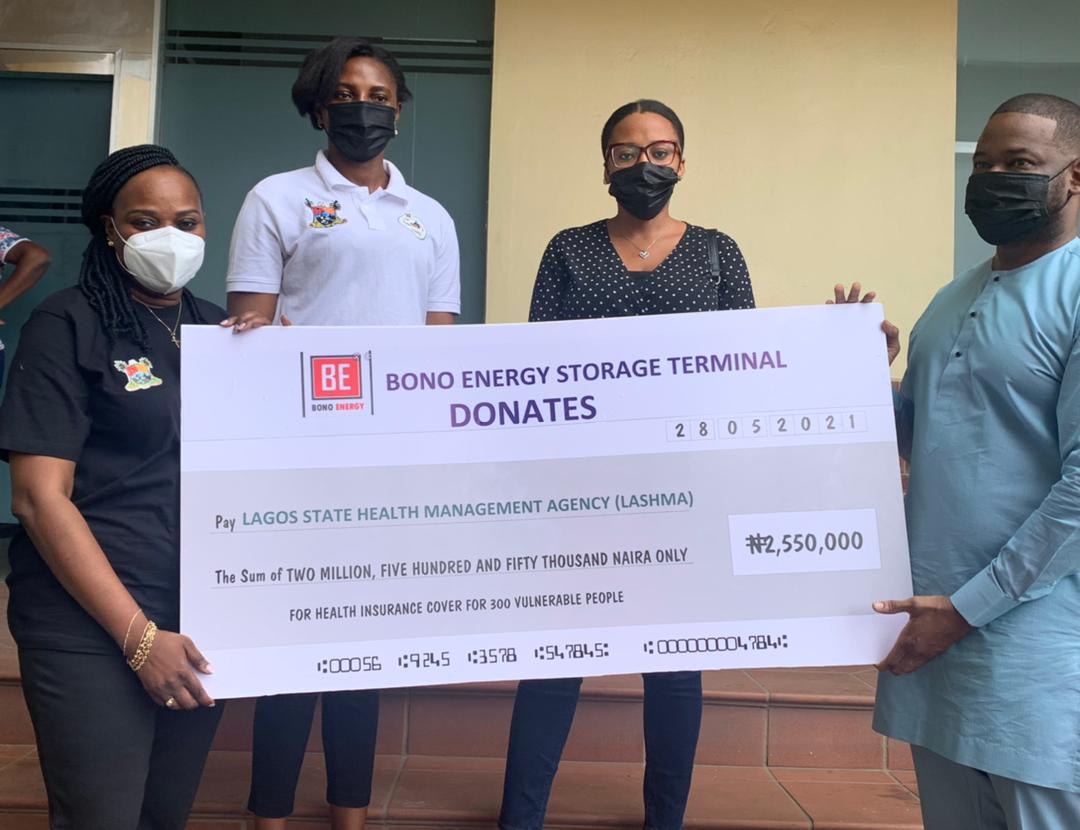 Bono Energy Storage Terminal, BEST, one of Nigeria's leading companies in the petroleum storage business recently presented a cheque of N2.55m to the Lagos State Health Management Agency towards covering the health insurance of 300 vulnerable Lagosians for one year.
The move was part of the corporate social responsibility of BEST, a company that was initially floated to provide storage services for its holding company, Bono Energy in its trading activities. It subsequently has enlarged its coasts to provide storage for third parties with the acquisition of a 47,350 metric tonnes storage facility in the Ibafon, Apapa area of Lagos.
The BEST terminal is able to store Gasoline, Gasoil, Aviation Turbine Kerosene, and Base Oil.
The gesture to LAMHA is not the first as the Bono Group has gained a reputation for its CSR hallmarks within and outside its immediate operating environment.
Bono is the main sponsor for Educare Trust, a Non-Governmental Organization NGO that promotes education, health, good governance, and leadership in Nigeria. The group's contributions to this NGO have significantly improved their operations and impact.
GreenWhiteGreen GWG reports that Educare Trust through the support offered by the Bono Group has among others achieved the following;
Developed policy briefs for the Oyo State Ministry of Education
Collaborated with UNICEF to design the situation analysis for women and children in Oyo state
Provided food palliatives to juvenile homes, orphanages, etcetera
Donated Personal Protective Equipment (PPE) to the African Centre Excellence for Genomics of Infectious Diseases, Redeemers University, during the first wave of the covid-19 pandemic.
Engaged public secondary school students on the UN Sustainable Development Goals.
Bono Group is also the part sponsor for the Jigawa Literacy4prosperity Program. Our vision is to have an educational program in each geopolitical zones of the federation.
Send Us A Press Statement Advertise With Us Contact Us