Delta APC Falling Into Crisis As Leaders Challenge Omo-Agege, Erue Hegemony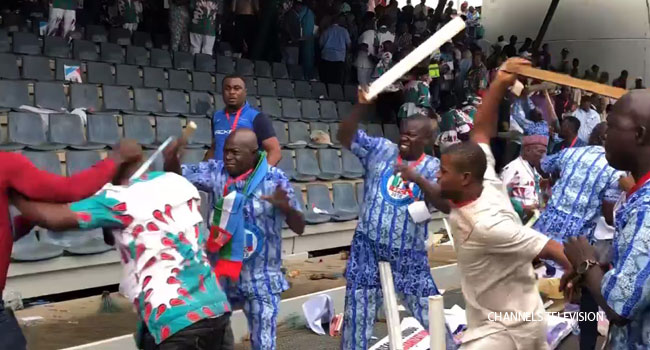 The bourgeoning influence of the Deputy Senate President, Ovie Omo-Agege in the politics of Delta State All Progressive Congress (APC) has unsettled some leaders of the party particularly in Delta north senatorial district.
Presumed largely as the governorship candidate of the APC in 2023, Omo-Agege who represents Delta central, has used his position as DSP in the last two years to build structures across the state ahead of 2023 with the tacit support of the state chairman of APC caretaker committee, Jones Erue.
But some leaders of the party in Delta north that are also nursing gubernatorial ambition have expressed determination to restrict Omo-Agege from the zone starting with party congresses to elect ward, local government and state officers.
Besides curtailing Omo-Agege, leaders and stakeholders of Delta north APC resolved to produce the next state chairman of the party after Erue who is from Delta south.
As a result, there seems to be a battle of wits already between leaders of the party over who controls the soul and structure of the main opposition party in Delta ahead of the 2023 general election.
At a meeting to consolidate their position, leaders and stakeholders of APC in Delta north expressed willingness to work together in achieving their aims.
The meeting which held in defiance to the directive of Mr. Erue, had in attendance an Executive Director of NIMASA and former Speaker of the state House of Assembly, Victor Ochei; a member of the Interim Management Committee of the Niger Delta Development Commission (NDDC), Dr. Cairo Ojougboh; 2019 deputy governorship candidate of the party, Mr. Ossai Abbey; state secretary of the party's caretaker committee, Chidi Okonji among others.
Addressing party faithful, chairman of Delta North Senatorial District Caretaker Committee, George Okafor said the zone was seeking the understanding of other sister districts to concede the state chairmanship position to Delta north.
He commended the South-South Peace Building and Reconciliation Committee led by John Oyegun for setting up a four-man College of Leaders comprising Victor Ochei, Marian Ogoh-Ali, Eugene Okolocha and Cairo Ojougboh to oversee the affairs of the party in the zone and midwife successful congresses.
Okafor urged party faithful in the zone to rise above primordial sentiments but to remain united and work for the overall interest of the party.
"To recast on our last resolutions, it becomes necessary to remind us that APC Delta north is seeking the understanding of our sister districts to concede the APC Delta State chairmanship position to us.
"We therefore urge our College of Leaders to reach out to other leaders and stakeholders in the south and central districts to actualise this aspiration.
"You can be rest assured that APC Delta north will work in concert with you to midwife a new set of executives from the scheduled congresses in the district, while we count on you to be just, firm and resolute to see there is no external interference," Okafor said.
On his party, Dr. Ojougboh read solidarity messages from the Minister of State for Labour and Employment, Festus Keyamo who is from Delta central, and another leader from Delta south, Alex Ideh, with both expressing support for the meeting despite Erue's directive that the meeting should not hold.
Ojougboh stressed the need for unity, adding that party faithful in the zone should not allow external forces to sway them.
"Nobody can intimidate you, we should not allow external influence to disorganise us. There is no place they can reach that we cannot reach. We are equally very determined, and we are not going to be quiet.
"We must have congresses that are representative of our wishes here. We the Delta north, if you respect us, we respect you. If you think that you are anything and you can come to Delta north and lord it over us, it will not happen,," he said.
Also speaking, Ochei said Delta north APC had resolved to stand together in unity, insisting that nobody has the right to stop the meeting as far as freedom of association is guaranteed by Nigerian constitution.
"Our detractors who believe we cannot meet, with your overwhelming presence has shown that Delta north is not divided.
"We are ready for what they are ready for. But no man no matter who you think you are, can hijack the party by elements of people you put together, we are waiting for you.
"You can come with all the sirens in this world and make all the noise but tell them the truth about what happened to you in Okpai, just a small community, you could not go in
"When you now face Delta north we will tell you to sit down. If you like write all the letters, it is within our fundamental right to meet. It is right enshrined in Nigeria constitution chapter four that freedom of association is guaranteed.
"Let us not waste time on people who do understand why they are in position, but thank God their time is over. How do you do politics without meetings? So issuing a fiat to stop this meeting was wrong.
"This is about the stature of our party. You cannot have somebody who has been deputy national chairman of an opposition party where we were groomed, and you say we cannot organise ourselves in our senatorial district.
"You cannot have someone who has been a speaker of this whole state and you say we cannot organise ourselves, we cannot meet? Or someone who has contested as deputy governor that he should sit down and not attend a meeting," Ochei said.
He said party faithful must speak with one voice in order to actualise the aim of producing the next state chairman o the party.
"Delta north is desirous and we want to produce the next state chairman of APC. We have many capable hands who understands what partisan politics is all about, not people who trade with us.
"When the time comes for leaders to sit down and talk, we will insist on that. If we get the chairmanship, other positions can go to south and central. The only way to do that is we must be united and resolute," Ochei cautioned.
On ward and local government congresses, the former Speaker urged aspirants for various positions to go about their campaigns peacefully, saying that the zone must get it right "because that is our negotiating strength, that is our power, our tool."
In a veiled reference to incumbent senator representing Delta north, Peter Nwaoboshi who is being speculated to have perfected plans to defect to APC by working with Omo-Agege, Ochei insisted that any intending member must go through the right processes which commence with registration at the ward level.
"One man cannot say he is declaring for the party from his house. If you are coming to the party, then come properly.
"In our constitution, if you want to be a party member, you go the ward. Even if you are being recommended by the President of Ghana, you are not a member of APC unless you go to your ward chairman to do the right thing. The ward is the foundation of partisan politics. You can keep jumping anywhere you so wished but you are not a member of APC," he affirmed.