Unpaid Loan: Heritage Bank Staff Storm Senator Andy Uba's House (Video)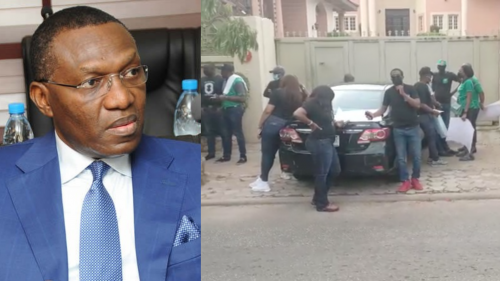 Senator Andy Uba, at one time one of Nigeria's most influential men was on Monday under pressure after more than 20 staff of Heritage Bank, Abuja stormed his Abuja residence to demand that he repays loans owed their bank.
The bank workers said that they were prompted to lay siege to his house to save their jobs. The amount owed the bank and the circumstances were not available on Tuesday morning.
In a video of the siege shared online, the aggrieved bank workers wearing branded T-shirts and Jean trousers were seen protesting in front of Senator Uba's residence with placards to press forward their claims that the senator should repay his loans.
A voice in the video was heard saying that their jobs were at stake on account of the senator's debts.
 GreenWhiteGreen GWG reports that Senator Uba who served as Senior Special Assistant on Domestic Matters to President Olusegun Obasanjo was about one of the most powerful men in that administration being about the first to meet Obasanjo in the morning and about the last to see him before  the president went to bed.
Senator Uba is now an aspirant in the forthcoming All Progressives Congress, APC governorship primary in Anambra State. He had served as governor of Anambra State in 2007 for about two weeks before the Supreme Court removed him.
He has contested in every election cycle in the state since then to return to office on different platforms, albeit to no avail.
"Good morning, ladies and gentlemen. Today is Monday, the 21st day of June 2021, and we have here the staff members of Heritage Bank Pl, Abuja. We are in front of Senator Andy Uba's house in Abuja.
Senator Uba has been owing the bank for a couple of years now and we are here for a peaceful meeting with him, very peaceful meeting. To ask him to kindly repay those loans because they are depositors' funds.
Those monies, if they are not repaid, will throw the number of the people you see here, with their families out of work ad we know the situation of the economy now. If this number of people are thrown out of work, you know what it means.
So we are here to appeal to the Distinguished Senator to kindly pay this money so that these people will not lose their job…"