Fresh Issues On Heritage Bank And Senator Uba Loan Mess
By Editor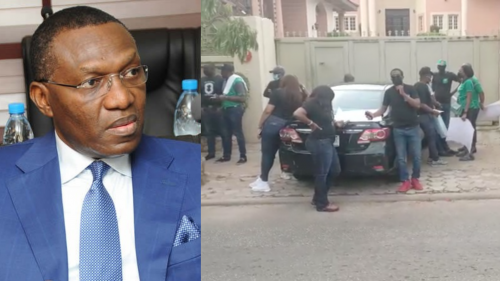 Two days after staff of Heritage Bank mounted a siege at what was claimed as the Abuja residence of Senator Andy Uba over unpaid loans due the bank, fresh issues from the brouhaha are continuing to spill out.
GreenWhiteGreen GWG had reported the denial by Senator Uba of the allegation. The powerful but taciturn former Senator who is an aspirant in the forthcoming primaries of the All Progressives Congress, APC made the denial through his campaign organization in which he claimed that he was not owing the bank.
GreenWhiteGreen GWG has since learnt that the assertion by the Senator Uba campaign may be true to the extent that he did not take money directly from Heritage Bank. However, bank sources say that the issue flowed from an obligation to the former Enterprise Bank which was taken over by Heritage Bank.
The loan with attendant interest according to sources who spoke on the basis of strict confidentiality may have run up to N11 billion.
Asked why the alleged loan to Senator Uba was not collaterised, a source revealed that the collateral which is a property in the posh Banana Island had become encumbered with other obligations that made it inaccessible to Heritage Bank.
Banking sources who spoke to GreenWhiteGreen GWG also revealed that the Central Bank of Nigeria, CBN has been piling pressures on Heritage to clean up its bad loan portfolio, an issue that was partly said to have spurred the move.
Remarkably, the siege on the Uba residence was done when the Managing Director of the bank, Ifie Sekibo was out of the country. Bank sources said the action on Uba was not directly influenced by the managing director but stakeholders doubt if the action allegedly instigated by the top official in Abuja was not cleared from Sekibo.
While the Uba political campaign organization alluded to political motif in the siege and publication, it was learnt that there may be some element of truth to the claim.
Senator Uba is the leading aspirant for the All Progressives Congress, APC ticket in the forthcoming governorship primary in Anambra State.
It was gathered that the bank realized that the election season was about the best time to recover what was turning into a bad loan from Uba and hence the move to get at his underbelly by embarrassing him just before a crucial election. A source said that the action may have worked out well for Heritage.
Unconfirmed sources said that since the siege that the two parties had reached an arrangement for the settling of the outstanding loan.
"With the payback arrangement, the bank has achieved its purpose no matter what anyone may say," a source familiar with the development told GreenWhiteGreen GWG.
However, whether the issue would portray the bank in bad light and expose it as thin is another issue that the bank would have to tackle in the days to come.