After Nnamdi Kanu Will Buhari Also Nab Reno Omokri?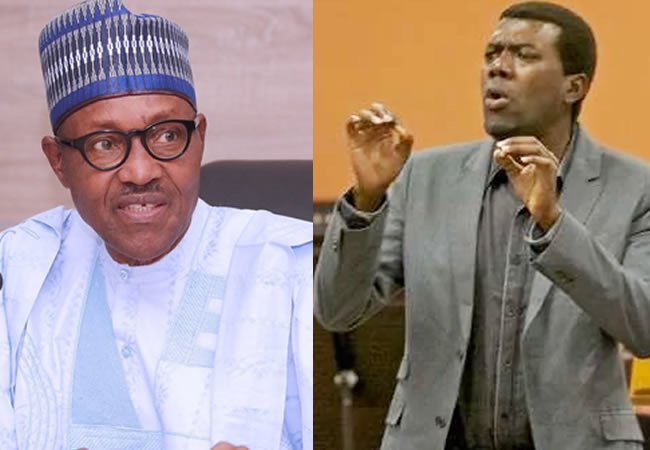 Nigerians were shocked on Tuesday, June 29 when the Attorney-General of the Federation and Minister of Justice, Abubakar Malami, announced that the Leader of Indigenous People of Biafra (IPOB), Nnamdi Kanu had been arrested and brought back to the country.
It was the best kept secret in the country in the period.
Kanu had fled the country in September 2017 despite having a case of treasonable felony before the Federal High Court in Abuja.
From his hideout in Britain, the IPOB leader launched several tirades against the President Muhammadu Buhari administration.
When he was brought before Justice Binta Nyako on Tuesday, he said he only escaped to safety after the military invaded his house.
Kanu is not the only 'enemy' of the present administration who may nurse some fears about the unconventional manner Kanu was shipped to trial.
Before him, President Muhammadu Buhari had in his first coming as a military head of state, nearly succeeded in shipping a similar critic, Alhaji Umaru Dikko to face justice. Dikko escaped by the whiskers.
Another fierce critic who has been hitting at Buhari almost on a daily basis from the safety of his California base is Reno Omokri.
Omokri, who served in the Goodluck Jonathan administration has relentlessly hit at Buhari and like Nnamdi Kanu used twitter to denounce the Buhari administration.
Reno Omokri successfully supported a campaign to unfollow Nigeria's president, Muhammad Buhari on Twitter. His campaign #UnfollowBuhari, led to a 100,000 drop in the Nigerian President's Twitter following in just 3 hours.
Omokri left the country just before Buhari assumed office in May 2015 but has toured the world lashing at Buhari's perceived failures using his Reno Nuggets. He has also championed the case of Leah Sharibu, the only girl who happened to be the only Christian who was left behind when the Buhari government negotiated the release of the Dapchi School girls kidnapped by Boko Haram in February 2018.
Omokri has remained a thorn in Buhari's flesh practically. When the president went for medical vacation in last March, Omokri within hours relocated to London to lead the campaign by Nigerians to harass him out of the country.
When it was announced that the president was again for another medical vacation a week ago, Omokri was reportedly about setting out again from California to London until the president announced the shift in the medical vacation.
While it was easy for the Buhari government to seek assistance from foreign and international police organisations to nab Nnamdi Kanu on account of his present case before the Nigerian judiciary, Reno Omokri is another kettle of fish. Omokri has not been accused of any crime in Nigeria even while he served the Jonathan administration.
That's what separates him from Nnamdi Kanu. But you never can tell.