Sunday Igboho: Two Killed, Wife Abducted As French Speaking Gunmen Raid Residence (Video)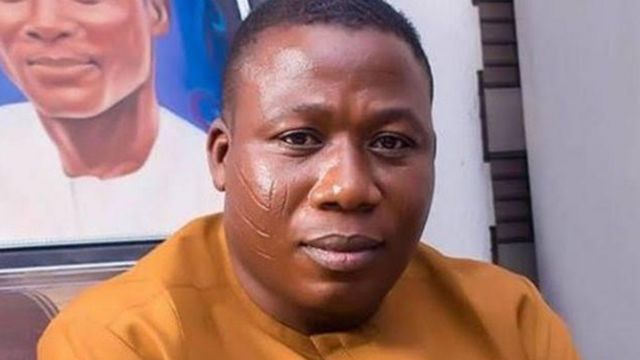 Two persons have been reportedly killed during the early morning attack on the residence of Yoruba rights activist, Sunday Adeyemo, popularly known as Sunday Igboho, in the Soka area of Ibadan, Oyo State.
His spokesman, Olayomi Koiki, who confirmed this on Thursday morning claimed that the attackers were soldiers as he said that two persons have been killed by the attack.
The fate of Sunday Igboho is still unknown and it was not revealed if he was present when the attackers came.
"The situation now is very bad. Two Yoruba sons have been killed in the house of Chief Sunday Igboho. The two dead bodies have been taken away by the military. We do not know of the location where they were taken to," Sunday Igboho's media aide, Koki said.
Noting when the attack happened, Koiki said the house was attacked around 1am on Thursday, as he confirmed that the attackers were soldiers.
"I can confirm that those who came are definitely Nigerian soldiers. There are more than 100 soldiers that came," Koiki said.
He added, "The situation is very active as more security operatives in about seven Nigerian Army patrol vans have arrived."
However, a statement signed by the leader of the umbrella body of Yoruba self-determination groups, Ilana Omo Oodua, Emeritus Professor Banji Akintoye alleged that the wife of the Yoruba activist, Sunday Igboho was abducted.
The statement was titled, 'Yoruba Nation: Elements of the Nigerian Army, Accompanied by International Terrorists hired by the Nigerian State attacked Sunday Ighoho's Residence – Akintoye.'
Akintoye alleged that "the assailants were all dressed in military uniform and spoke French language fluently," putting the insinuation that the gunmen may have been hired to carry out the attack.
 GreenWhiteGreen GWG had earlier reported that the attack on the Soka, Ibadan residence of Sunday Igboho happened days before the scheduled Yoruba Nation rally.