Fire Incident As Church Holds Candlelight Procession For TB Joshua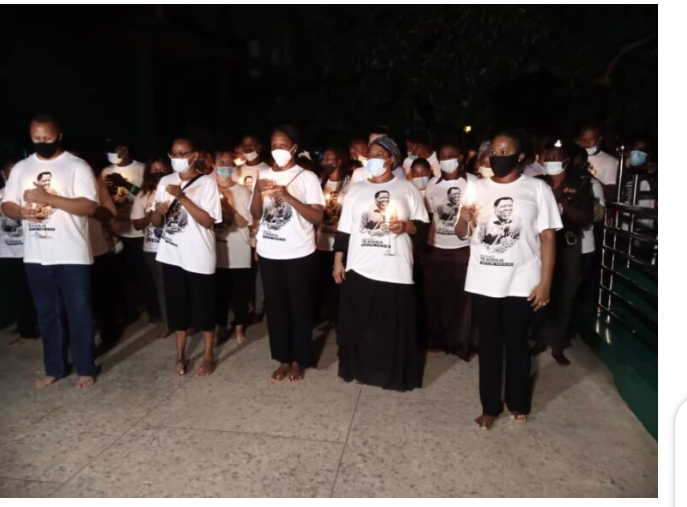 A month after his death, a candlelight procession was held late on Monday in memory of Prophet TB Joshua at the expansive premises of the Synagogue Church of all Nations, Ikotun, Lagos.
The candlelight procession was, however, marked with a fire incident at a store in one of the buildings in the premises. The church in a statement said no life was lost in the fire incident that it claimed was caused by an electrical fault.
The procession was led by the widow, children, son-in-law and included church members and friends of the Synagogue Church of all Nations partake in the candlelight procession at the 'Prayer Mountain' of the Synagogue Church of all Nations.
The children walked in order of birth with Sarah Joshua who is now a lawyer, Promise Joshua, Heart Joshua and Son-in-law Brian Mushi, a Tanzanian and husband to Sarah.
Wearing a uniform white shirt which had the image of Prophet TB Joshua on the front of the shirt, they walked round the long prayer mountain covering 'three laps' while the sermons of the late TB Joshua played at the background.
One of the leaders of the church, Evangelist Joseph said this was done to reminisce his life as a Prophet, "as this was where he started the ministry of Synagogue Church of all Nations, lived his prayerful life and was called to glory."
While the candle light procession was going on at the Prayer Mountain, some friends and well-wishers of the ministry held a musical candle light procession at the street of SCOAN.
This procession was accompanied by jubilation as well wishers sand and danced in memory of the legacy he left behind by TB Joshua.
As instructed by Evelyn Joshua, the prayer walk at the Prayer Mountain was brought to a close with a final prayer by Prophet Racine, a prophet trained by TB Joshua at the SCOAN.
Assuring that there was no cause for alarm over the fire incident, the church in a statement early on Tuesday, said:
"In the late evening of Monday 5th July 2021, there was a minor electrical fire incident at a storehouse within The Synagogue Church Of All Nations complex.
"The incident was quickly brought under control without any injuries.
"As part of the preparedness for the weeklong services celebrating the life and legacy of Prophet TB Joshua, The SCOAN has worked closely with relevant government agencies including the Lagos State Fire Services, whose members were on the ground at the time of the incident.
"We thank God for His continued protection. We assure the general public that there is no cause for alarm and the services celebrating the life and legacy of Prophet TB Joshua will continue as scheduled."