Fuss Over Plans To Promote Magu To AIG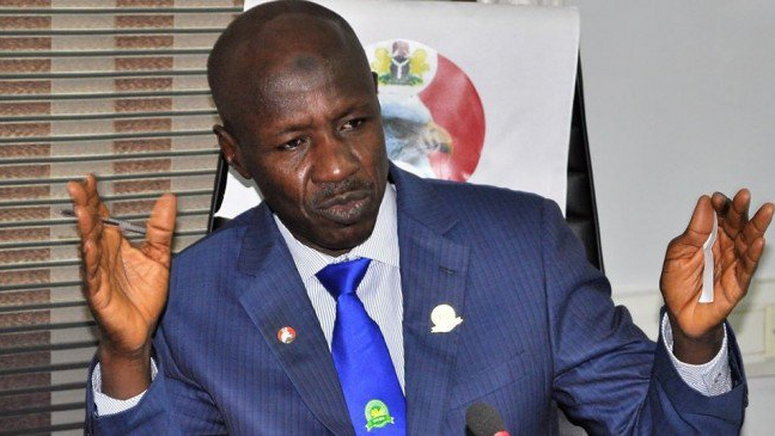 Muttering over the planned promotion by the Police Service Commission, PSC of Mr Ibrahim Magu, the sacked chairman of the Economic and Financial Crimes Commission, EFCC is generating tension between the presidency and the commission.
The tension follows concerns that Magu who had been recommended to the Inspector General of Police for discipline upon the recommendations of the Justice Ayo Salami panel which investigated him is about to be rewarded.
The PSC, The Cable reported, is planning to promote Magu to the rank of Assistant Inspector General of Police despite the strong indictment of his person and actions as chairman of the EFCC.
Magu, it was gathered is a favourite of the chairman of the PSC, Musiliu Smith, a former Inspector General of Police from Asiwaju Bola Tinubu's Lagos State.
Magu as chairman of the EFCC was reported to have been soft on Tinubu.
The presidency is, however, said to be concerned about the promotion of a man that was dammed by the report of the Justice Ayo Salami panel that investigated him. The outcome of the investigation was what led to his removal from the EFCC.
GreenWhiteGreen GWG reports that Magu was promoted to the rank of commissioner of police in 2018 but had been indicted by the Salami panel which among others faulted him "for failing to properly account for N431,000,000.00 security votes/information fund released to the office of the Executive Chairman of EFCC between November 2015 and May 2020".
The panel also found him wanting for causing "disappearance of evidence, stoppage and suppression of cases under investigation and prosecution, and omitting to arrest suspects" in cases involving a former deputy senate president and a former MD of Pipelines and Product Marketing Company (PPMC).
The panel in its recommendations also said that Magu should be referred to the inspector-general of police for "necessary disciplinary action".
The presidency and stakeholders are, however, concerned that instead of the sanction that he is being recommended for promotion.